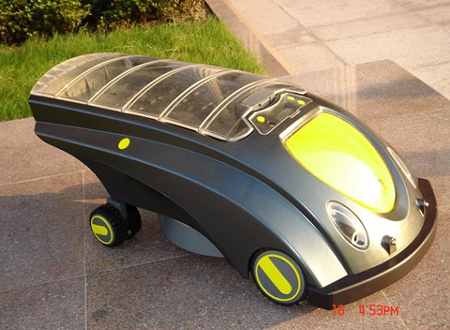 Do we really need eco friendly lawnmowers? The answer is yes. According to an estimate, a standard gas powered lawnmower emits the same amount of green house gases (GHGs) in 30 minutes as a standard car running for two hundred kilometers. This estimate certainly provides a case for the adoption of eco friendly lawnmowers that are built with latest green technologies. Here we are presenting a list of 10 best green lawnmowers. They not only produce least GHGs, but also lesser noise pollution as compared to conventional lawnmowers. Moreover, at a time when we are slowly filling our living space with green machines, these lawnmowers are an important addition required for a better tomorrow.
The Solar Powered Lawn Mower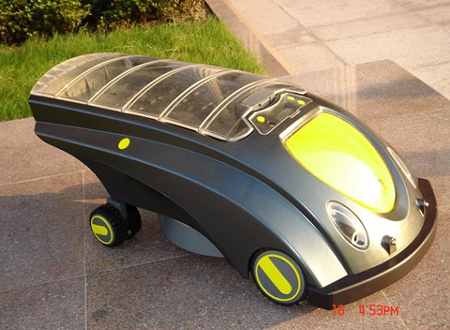 Equipped with artificial intelligence, image identification and telenet video systems, the Solar Powered Lawn Mower almost works automatically to mow your lawn. While the artificial intelligence allows it to avoid obstacles and prevent from falling down a slope, the image identification and telenet video systems allows it to operate without any manual help. The green mower is also able to spread scrapes or collect them at a place. It is suitable for both commercial and household purposes.
Eco friendly, five motor lawn mower from Husqvarna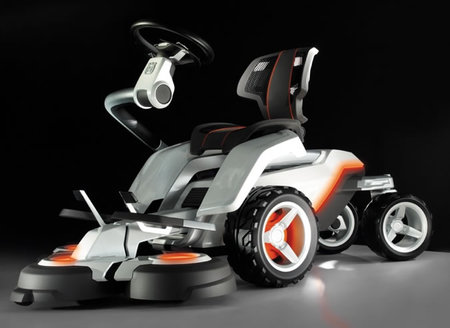 Named as Husqvarna Panthera Leo, the five motor lawn mower from Husqvarna is a futuristic eco friendly grass mower. It features a rechargeable lithium phosphate battery. Also, there are sensors which direct this green machine about the speed, height and warns it in case of a steep height or when an object is very close. All this information is displayed on an LCD screen.
The Neuton CE 5.2 Battery Powered Lawn Mower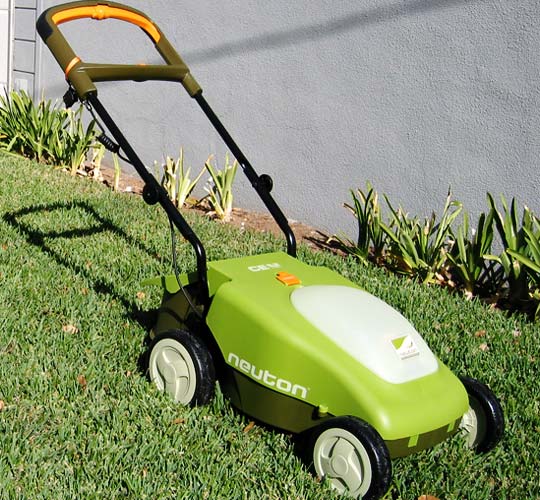 The Neuton CE 5.2 is a battery powered easy to use small lawn mower. You can make your lawn beautiful in three ways with the help of this machine. It provides the option of mulching, bagging and discharging the grass clippings. Also, it is very easy to adjust the position of the lever to cut the grass at a desired height. The emission free motor works for about an hour when the battery is fully recharged.
Solar powered lawn mower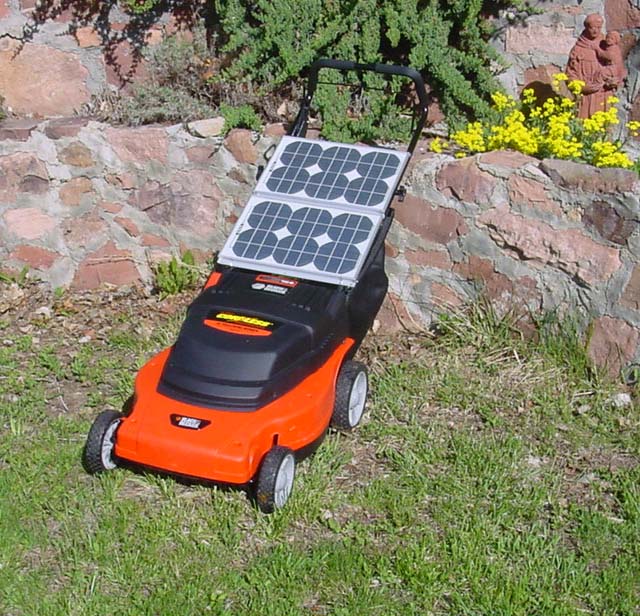 Named as Sunwhishper/24, this solar powered lawn mower works almost silently to increase the beauty of your lawn. It can be assembled in just10 minutes and can be used without much difficulty. You need not care much about its maintenance too. The eco friendly lawnmower has been priced at $695.00 and comes with a three year manufacturer warranty from the Free Power Sys.
Fully Automatic solar powered lawn mower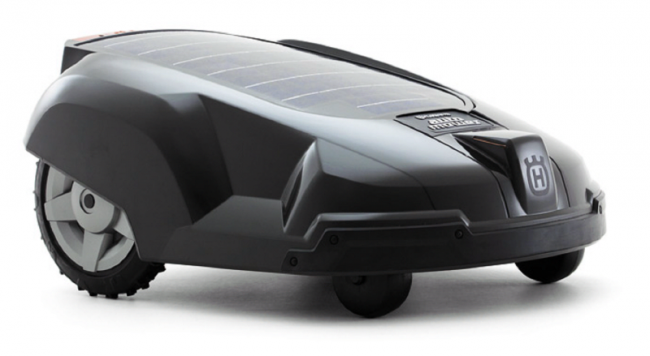 The AutoMower Solar Hybrid is a fully automatic, solar powered lawn mower that can attend up to five acre of land without any manual help. All you need is do is, install a special wire underneath the fence of the lawn and then the green machine works automatically within borders. It operates both during the day and at night. There is an inbuilt anti theft device, which raises an alarm when someone tries to steal it.
The Lawn Beetle is an efficient and eco Friendly lawn mower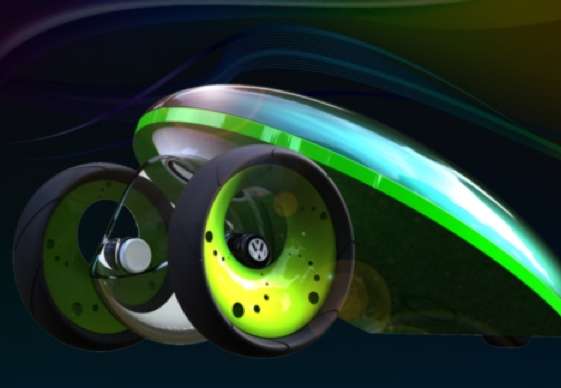 Designed by YunJin Chang, the Lawn Beetles offers some of the best solution of common problems experienced with regular lawnmowers. Firstly, it is powered by sun light and hence helps in keeping your lawn green in the real sense of the term. It has a curved solar panel on the top for this purpose. Secondly, it features a new system of trimming, which solves the problem of leftover grass by cutting the tips of the grass and throwing them out in the form of compressed grass balls, which is very easy to collect.
Lawn Mower Bike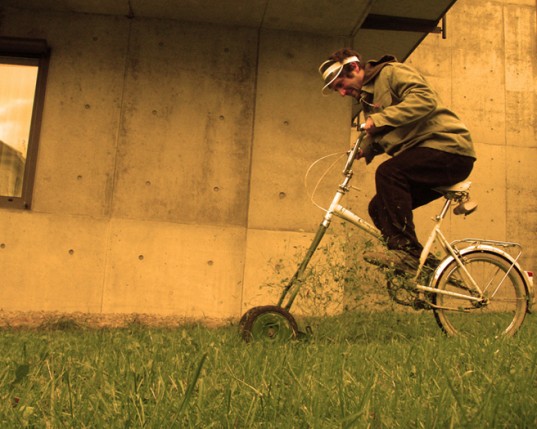 Designed by Florian Hauswirth, the LawnMower Bike offers one of the most exciting way of cutting grass. It is in the form of a folding bike made from an old push and pull lawnmower. This mower allows you to exercise while driving the bike and also helps in keeping your lawn clean.
Solar powered lawn mower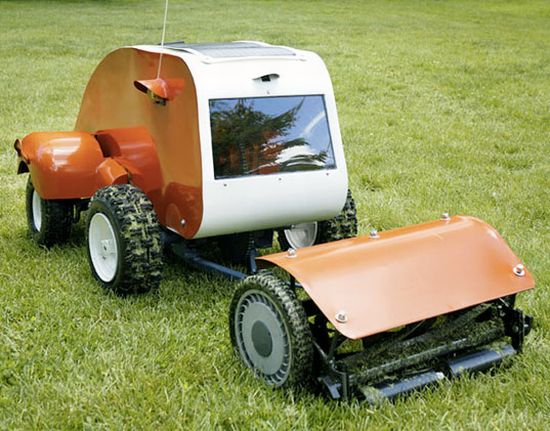 Named as the Primate's Progress, the solar powered lawnmower is a very high tech green machine that will keep your lawns tidy. It has been designed to make grass cutting a child's play. The eco friendly lawnmower has been made from recycled parts and can be operated with a remote control device.
Pedal powered lawn mower

The pedal powered lawnmower offers a stylish and eco friendly way of cutting the grass. People who have used this machine have confirmed that it runs smoothly and easily, even though its external appearance makes it seem difficult to operate.
Manual solar hybrid lawnmower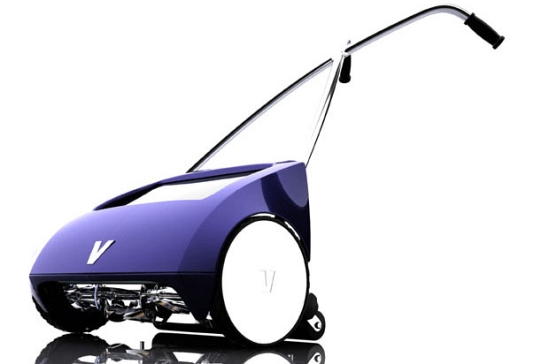 Designed by Frank Deveson, the Manual solar hybrid lawn mower is based on a common reel mower. It offers an electric back up, which can be applied when you are in no mood of a workout. High power batteries have been used for this purpose. These batteries are also charged with the sunlight through a photovoltaic panel placed on the top of the machine.