You might think that using a CFL or LED lighting will not make a major impact in conserving energy but in reality if every household takes simple and easy measures to save energy, it can make a substantial difference to our environment. Planning efficient and effective lighting for your bathroom area can add a lot of zing to your bathroom. If you take simple precautionary measures to save cost and energy, you can contribute your bit in saving the planet and its limited resources like power. Eco-friendly lighting is important for those folks who want to enjoy a sustainable living. Many factors like your vanity fittings and lightings can help in creating a green bathroom. Modern day companies are leaving no stone un-turned to offer their consumers effective and efficient environment friendly lighting techniques. Here is a description of such options for creating a green bathroom.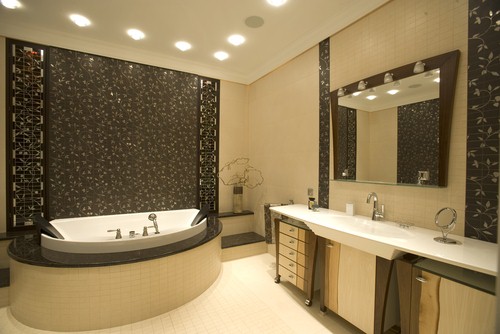 1. Dimmers
Dimmer switches are available in single pole or three way types and can be used for your conventional lights. Lights with a dimmer are energy efficient than the traditional lights. Dimmer can help you control lights to ensure they do not emit the maximum light and thus help to preserve energy. They can help you go green with minimal effort and cost.
2. Fluorescent fixtures
Fluorescent fixtures are very effective in saving energy and cost as they use 75 percent less energy than incandescent lighting methods. They are available in various varieties, shapes, and sizes. The CFLs can be used which are miniature forms of full-sized fluorescents. Substituting a single incandescent bulb with a CFL helps in reducing half-ton of carbon dioxide over the bulb's life span. These days' dimmable fluorescent fixtures are also available using a dimmer switch.
3. Energy star rated lighting fittings
Eco-lovers can opt to use ENERGY STAR-rated lighting fittings for their bathrooms. They help you contribute towards a greener environment by reducing the greenhouse gas emissions and help you save on your monthly electricity budget considerably. Manufacturers need to follow strict energy efficiency guidelines during the production process of these star rated fixtures, which are set by the respective departments of energy in most countries.
4. LED lighting
LEDs are available in form of light bulbs, which are extremely energy efficient. They are long lasting – lasting up to ten times longer as compared to traditional lighting mechanisms. LED bulbs do not cause heat buildup and help in reduction of air conditioning bills. LED bulbs use only 2-17 watts of electricity and therefore are more efficient as compared to incandescent bulbs. They have low power and maintenance requirements. There are various models available to go green by using LED lighting bulbs. While opting for LED lighting you should be careful about the certifications like FCC, energy star, and UL. Most LED bulbs are colorless, offering a sophisticated look to your bathroom. However, if you want to add some accent according to your bathroom countertops or other vanities, you can opt for colored LEDs like red, blue, or amber.
5. Sky lights
Adding skylights to your bathroom is a great way to go green. Using skylights can help you add a source of natural sunlight to your bathroom. This form of lighting acts like a freebie as once installed, it will last for a lifetime. This is one of the most energy efficient ways and helps you conserve energy most effectively. Skylights can enhance the over all look and feel of your bathroom and can make it look attractive. You also have the option to use skylights with low e-coatings. They help in heat reduction in winters and eliminate heat from entering your bathroom area during summers. Skylights offer you comfort, quality, and health related benefits as they do not emit toxins and go beyond energy efficiency and energy savings.
6. Recessed lighting
Easiest way to conserve energy in your bathroom is to opt for eco-friendly lighting. Recessed lighting techniques can help you go green by offering high quality and energy efficient lighting in your bathroom area. They can brighten up the dark areas of your bathroom and look stylish and trendy. Eco friendly light fixtures can be used to replace the traditional lighting and enjoy a green lifestyle. Before you start buying recessed lighting bulbs for all your bathroom area, purchase one and test it, as some bulbs may not fit in all recessed lighting cans.