If you want to race your way through the mud with a burly, athletic and sturdy quad bike, Contes Engineers have on offer their latest creation, an extreme quad cycle, Athos. It's the unusual cross between a pedal powered bicycle and a four wheel quad that has brought it to limelight. First showcased at the Interbike show, 2011, it promises to be a green alternate to fuel powered ATVs. It might lack the speed thrill that an ATV offers, but this means you'll enjoy a risk free ride, without worrying about injury.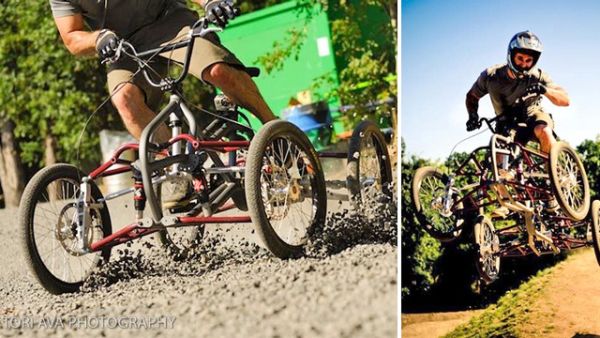 Contes Engineers, the builders of the Athos bike claim that it is a combination of stability, smooth handling and flexibility. But, the fact that it is a quad bike and has no tilting mechanism, therefore, with respect to flexibility, it actually cannot compete with a bicycle.
The Athos comes in three different configurations that take its scope a bit further than being limited to dirt tracks and jump parks. All these versions are integrated with a four wheel suspension up to 10 inches of travel and disc brakes, both in front and the rare. The most basic freestyle version is single speed and a standard 20 inches BMX wheels. This followed by the Downhill/Trail and the Cross Country versions that offer 11 speeds. The latter two come with 26 inch mountain bike wheels and buyers can further customize them with LED lights and better air suspension, and even extra gears.
Although the bike is intended for mass production sometime soon, no details are available about the pricing or the exact time when it will be available in the market.
Via: Gizmodo