Reclaimed pallets used to make modular pop-up office
Pallets are one of the most reused material and less than 3 percent of them end up in landfills after they have outlived their useful life. Despite this fact, they remain one of the most exciting materials to use in an eco-friendly building. Dubbeldam Architecture + Design, a Toronto-based design studio, recently used the material to create an ambience of rugged aesthetics and pragmatic provenance for their latest eco-project, the Pop-Up Office. The project came into being as a part of the Interior Design Show's special exhibition How Do You Work and features source material in standard dimensions used to fashion five different modules for the workspace concept.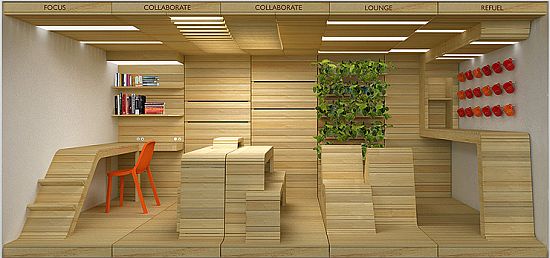 ---
Since the modern office is centered around new key elements that promote flexibility, adaptability and mobility, the modern workspace need to provide a dynamic working environment. As an installation, the POP-UP Office can be tailored to the individual using its simultaneously bare bones and using different ways to combine the modular units. To facilitate both collaboration and individual work, the modules can be used as a refueling station, a lounge area, a collaborative space and a workspace. All the elements and their frames are built using reclaimed wood pallet boards including the furniture elements, wall and floor that have been left rough and sanded smooth in places where people come in contact with it.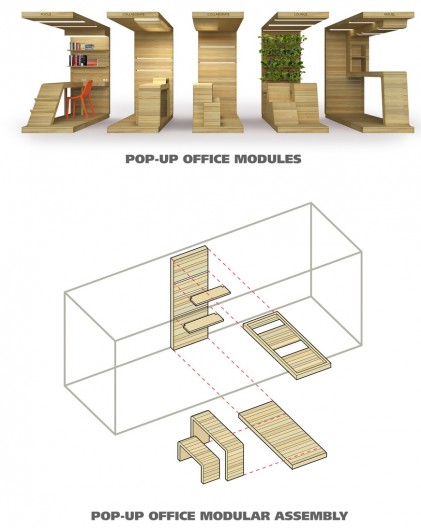 The wood slats are used to slide in smaller ledges while adjustable storage and display areas are created by using wall board slots to fit in modular shelves. The modest office space is aimed at start-ups, disaster relief situations and outdoor festivals and is designed for short term use. It can be rapidly deployed, is complete reconfigurable and can be easily transported as well. Its makers have not put a price tag on it just yet but we expect it to cost less than what a regular furnished office costs.