The latest fad doing the rounds for pet lovers is eco-friendly products designed exclusively for one's pets.  Stylish products made out of naturally sustainable and environment friendly material for your pooch is a style statement in itself and what works best than the evergreen eco-friendly bamboo? Ability to be crafted or weaved into almost any shape and size, bamboo rules the world when it comes to eco friendly pet products. Given below are 8 Eco Friendly Pet Products Made From Bamboo that your pets would just love!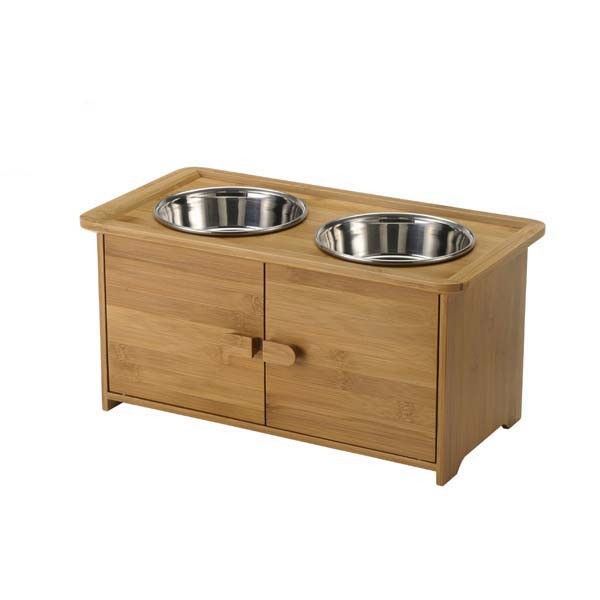 1. Food and Water Bowls:
One of the best eco friendly products that you can get for your furry companion is its food or water bowl. These bamboo-made super cute bowls do not allow the collection of leach or icky bacteria on the surface as well as outlasts the unsustainable plastic bowls and are the best gifts you can give to your little friend.
2. Food Scoop
Another pet product that can make your life easier is a bamboo-made eco friendly food scoop for your pet.  If you are tired of the flimsy ones you have had till now, this is the perfect solution for you where bamboo brings in the elements of durability as well as look. Couple it with bamboo made pet spoons or litter box for that perfect set.
3. Serve Cabinet:
In case you are a proud owner of a taller or older pooch, who most of the times suffer from stiff muscles from craning their head too much, you might need a serving cabinet that's a little elevated in height. Eco-friendly and durable bamboo cabinets fitted with stainless steel bowls for both food and water are very useful eco-friendly pet products for the same.
4. Barrel Condo
One of the coolest and most stylist pet products of all times, especially if you have a kitten, is a barrel condo where it can sleep, hangout or play in bliss. Throw in a washable pillow and a toy to make this eco-friendly bamboo product the favorite spot for your little friend.
5. Stylish Beds
If you're torn between allocating space for your pet to sleep as well as having a corner room décor, a good idea would be to just combine the two! An eco-friendly bamboo-made comfy bed for your cat designed to be a chic décor piece is just what you need. A high dome shaped bamboo ball bed in one corner where your cat would just love to hop on to and curl itself to sleep isn't a bad idea at all!
6. Ramp Steps:
Having trouble getting your little friend up or down the bed or couch? Use durable bamboo-made ramp steps that are not only eco-friendly but durable enough to last your pet's lifetime. Choose between two-stepped or three stepped products as per your pet's needs.
7. Fur Combs
If you have a pooch who's undercoat gets pretty scruffy time and again, you need an undercoat comb. So from next time, use an earth-friendly bamboo undercoat dog comb instead of the unsustainable plastic one. A very popular pet product, it will gently remove all dirt and untangle all knots on your pet's belly.
8. Pet Area Deodorizer:
Bamboo is oven burned to produce bamboo charcoal, a substance known for its odor and moisture removing qualities which can come extremely handy in dealing with your pet's most stinking hangouts like litter boxes or beds. A natural deodorizer, this is both eco-friendly and bio-degradable making it one of the best eco-friendly pet products in the market today that doesn't make your pet sneeze.
So if you are looking for eco-friendly pet products that would make your pet happy as well as make your home or the world a healthier place, these amazing eco-friendly bamboo products is the way to go!