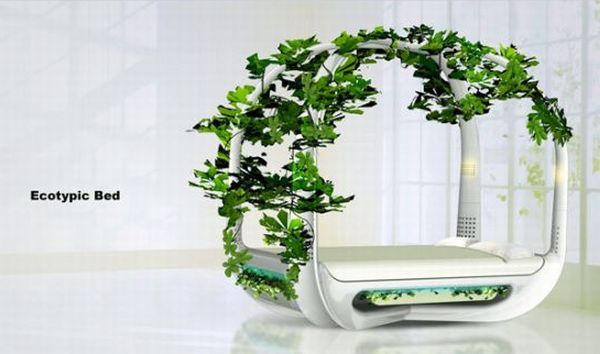 The fundamental behind ecofriendly living is to minimize the usage of electricity. However, there is no restriction in harvesting the abundant renewable sources of energy for the daily use. One can tap energy from numerous resources like walking, workouts, sunlight etc. These energy sources are completely free and renewable.
Therefore, the need of energy harvesters arises. Most of the conventional harvesters are big and bulky but what if we can transform our household furniture into an energy harvester. The energy harvesting furniture will not only serve as its usual purpose, but can also harvest the energy and store it for the regular or later use. Here is the list of five inspiring energy harvesting furniture generating green power.
1. Energy generating Murakami rocking chair
Rocking chairs are commonly used in home. People rock there for hours, reading magazines or novels. What if we can tap the kinetic energy of rocking and convert it to electricity? This is the inspiration behind Rochus Jacob's revolutionary design. He combined the nano dynamo technology with the rocking chair. The technology uses the kinetic energy from the regular rocking movement, converts into electricity, which in turn powers the LED lamp fitted above the chair to give light for reading purposes. The whole lamp shed is actually the LED lamp. It requires very little energy to give high illumination. The design is very popular among old age people who love to read while rocking. Unlike conventional wall fitted light sources, the light attachment move with the rocking chair and give steady light to ease the reading.
2. SOLo Lounge Table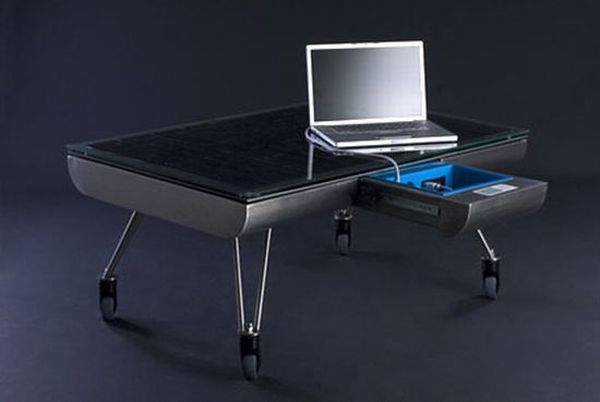 Sun is the abundant energy source of interest for years. However, it needs bulky solar panels to do the harvesting. SOLo lounge table is just an evolutionary design where you can place your cup of tea and harvest the solar energy simultaneously. The ultramodern table design will surely find a place in your garden or yacht. The other advantages are the onboard charging sockets for laptops and mobiles and its interaction with its on top LCD display or interacting computers via Bluetooth technology. The table can harvest 17 kW of energy per year, which is enough to power 300 cycles of mobile charging or 200 cycle of laptop charging.
3. Empower: The Energy Generating Rocking Chair
The empower is a high-end energy generator. It also harvests kinetic energy from rocking movements but it is fitted with USB outlets to recharge your laptop or mobile. The design is incredible and can be placed among your drawing room furniture. It is made of recyclable material and can be folded and taken with ease. The hinges of the gliders are hooked with an energy harvester and energy storing Li-Ion battery. It is very new and innovative design that will find its place among the best very soon.
4. Energy-generating chair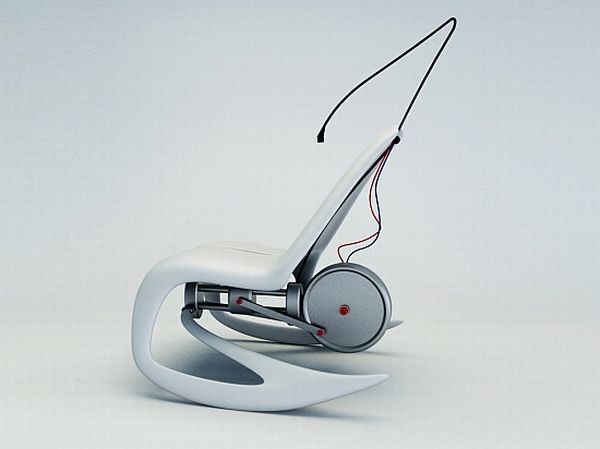 Office takes most of our time. Therefore, harvesting some electricity from the office chair is not a bad idea. This design is excellent for offices and airport lounges. This incredible model also harnesses the kinetic energy and converts into electricity. The chair is fitted with Li-Ion battery to story the energy. It also has a LED lamp attachment fitted with a under seat dynamo. The design is very complex but it can harness the energy of every movement of the body.
5. Kinetic energy powered green bed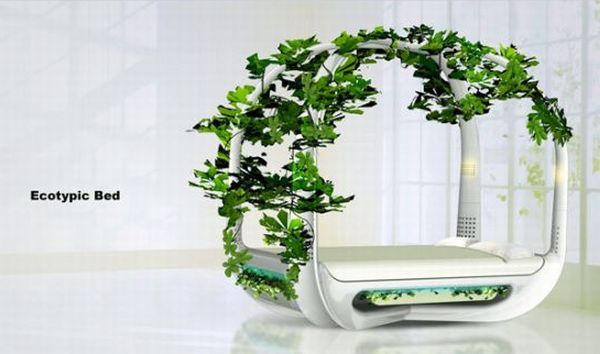 Everyone wants a romantic musical bed with lots of flowers and floras. Arthur Xin realized this dream with this incredible design. This designs looks out straight from storybooks. The ecotypic bed is an energy-generating cradle. It has a flower box attachment, to grow flora, covering all the bedposts. It is fitted with a kinetic energy harvester and Li-Ion storage battery. The bed can harness energy from any movement atop it. It can power a mini music system and light up LED lamps above the bed. It does create a romantic ambience with its design and music of choice.