Everything you can find in Mykonos you will find it in extremely high quality and big quantities. Mykonos is the place where you can live in absolute luxury and you and your beloved ones can be treated like kings or queens. All you need is some money and the knowledge where to spend it.
1. Luxurious lifestyle – accommodation / concierge services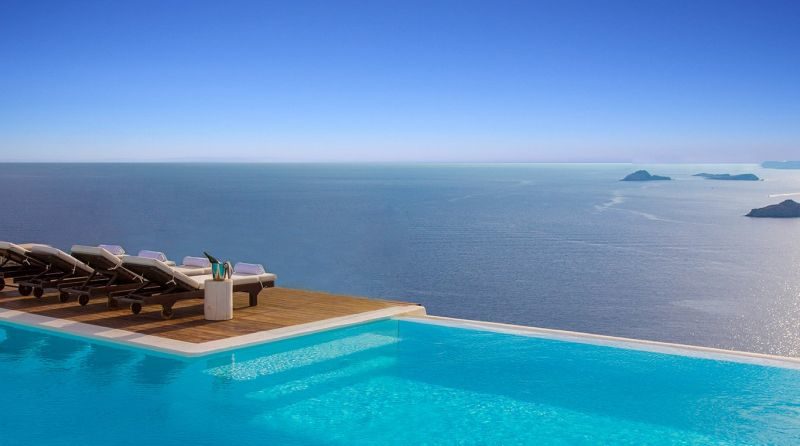 The first things you should invest on for your vacations in Mykonos are a luxurious accommodation and the concierge services you may need.
For the most lavish accommodation pick a five star hotel or one of the magnificent Villas in Mykonos Island. They both offer a stylish environment, high quality services and all the amenities you may think of. The only difference between them is that hotels usually offer a lot of useful venues within their facilities – like restaurants, spas or shops – while Mykonos Villas offer more privacy and space.
Mykonos' concierge services will cover any visitor's needs. You can rent a private yacht with a crew or a limousine with a driver, you can organize your own party, and you can book VIP tickets at your favorite night clubs or a table at a top gourmet restaurant. Anything you will need, the experienced staff will find a way to provide you without you having to spend time and energy to search around.
2. Superb beaches (St. John, Panormos, Ftelia, Kalo Livadi)
Another thing Mykonos has in large amounts is beautiful beaches. There is no way you cannot find your dreamy beach on the island among the 30 different beaches it has. There are beaches for any taste: calm or windy, organized or serene, sandy or pebbled. Nudists, gays, water sport lovers, families or couples will find a variety of beaches that suit their needs.
Here is a short list of some of the most amazing beaches on the island:
1. St. John (Agios Ioannis):
An organized but not crowded beach, perfect for spending a whole day on the seaside as it has many restaurants, bars and sun beds.
2. Panormos:
A relaxing oasis within the northern coastline, where usually strong winds blow. Here you will find Principote, the all-day beach resort with a lot of facilities – restaurant, bar, sun loungers and umbrellas.
3. Ftelia:
A virgin, almost wild beach which has become a meeting point for windsurfers. There are only a few restaurants and one bar on the site.
4. Kalo Livadi:
A party – lounge beach, ideal for couples, groups or families, with a lot of free space for playing or sunbathing.
3. Top of the top restaurants
Mykonos is one of the very few places on earth where you will find so many famous restaurants and chefs in such a small area.
One of the best gourmet restaurants with a great atmosphere is Kiku, in one of the nicest hotels, Cavo Tagoo, with good Japanese cuisine. At the edge of Mykonos Town and inside the Belvedere Boutique Hotel you will find Matsuhisa restaurant, owned by the famous Japanese – Peruvian- American Nobu Matsuhisa who has "spread" his kitchen to all the high class parts of the planet. The cosmopolitan Interni is a top choice for foreigners. If you prefer a beach restaurant with a lot of facilities around you, you can choose among Nammos at Psarou beach, Solymar at Kalo Livadi, Alemagou at Ftelia beach or Scorpios at Paranga.
Most of fine dining restaurants have their own cellars with a great wine and champagne list. Visiting one of these restaurants is a good opportunity to taste some rare labels or try some new wines and expensive champagnes.
4. World famous brands and designers' stores
The center of Mykonos Town is full of boutiques and stores. A lot of world famous designers have chosen Mykonos to show their new collections of clothes, accessories or jewelry. If you spend some time walking on the narrow streets of the center of the city, you will see many well-known brands such as Chanel, Dior, Valentino, Balmain, Blumarine, Tom Ford, Dolce & Gabbana,Gucci, and Christian Louboutin.
Some of the biggest fashion stores where you can find the most famous designers' creations are Enny Monaco at Tria Pigadia, Linea Piu on Kalogera St., and Nammos Village at Psarou beach. Some brands – like Luis Vuitton – have their own shops.
Article Submitted By Community Writer