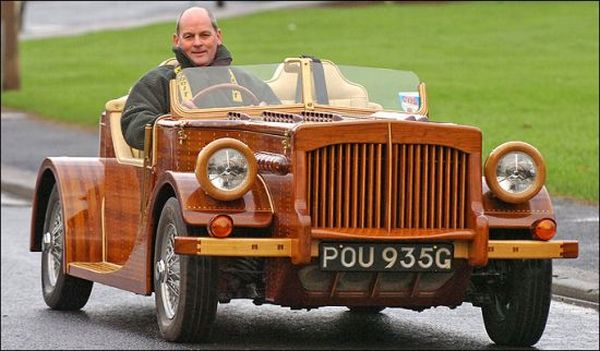 It is not everyday that we see wooden vehicles in streets, but who can seriously deny the 'naturalistic' charm of such vehicles albeit infused with dollops of quirkiness. Wood can also be considered as a sustainable material in relation to composition of vehicular bodies. The only problem can be the relatively heavy weight of the wooden construction, especially in comparison to more 'aerodynamic' materials such as carbon-fiber-reinforced polymer (which has a fascinating strength-to-weight ratio). Nevertheless, since wheels made their historical debut with wooden compositions, such as carts and chariots, and, hence, now it is only pertinent to continue that tradition with advanced engined vehicles.
Splinter – First Wood Car: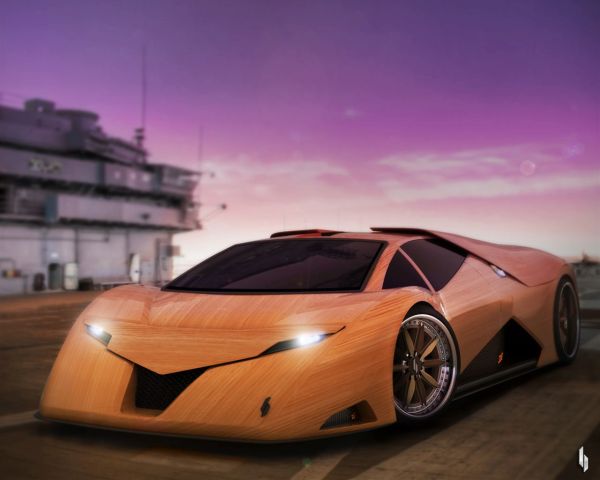 Yes, like you I was also flabbergasted the first time I saw it. But that is exactly what it is – asuper-car constructed from wood. Aptly named as the Splinter Car, this wondrously stylish car has a body made of wood. When the interior paraphernalia is concerned, it's a completely different story. The 600 bhp beast is powered by a twin-supercharged V8 from Cadillac, incorporated to a hefty six-speed transmission with a rear trans-axle from a Chevy Corvette.
Beautiful Wooden Vespa: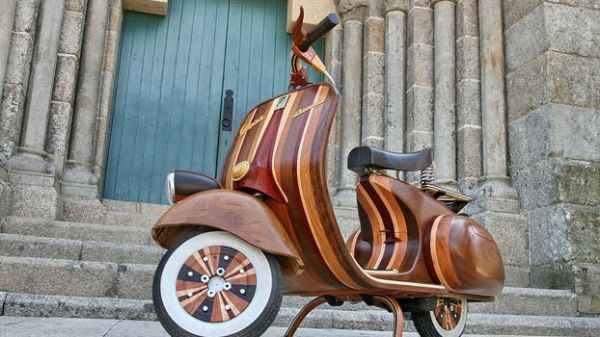 Remember those ubiquitous Vespas jauntily romping around in your friendly neighborhood, but now with the motorbike revolution (at least in India) they are a thing of the venerable past. In this particular instance, Carlos Alberto from Portugal has adroitly managed to craft a gorgeous piece of nigh 'art'. The charming finish is complemented with a two stroke engine, and the only downside to this contraption can be its gas guzzling attribute.
Half-retro, half-modern wooden car: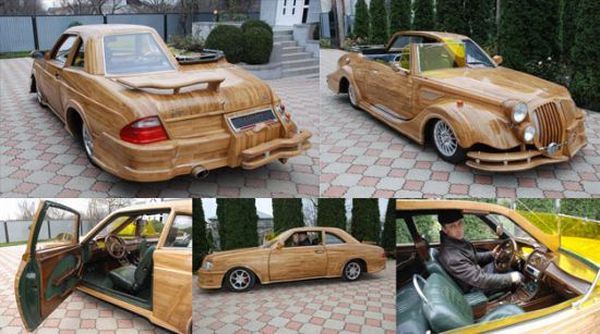 From the front it may seem like one of those retro styled vehicles from Mafia 2's Empire Bay City, and from the back it's like a modern day sports coupe. So, here it is – the ultimately proportionate fusion of old and new in wooden form. And this conception was fastidiously created by Vasily Lazarenko, who supposedly gave up his job, sold his two other vehicles and spent one and a half years in his garage to conceive his dream vehicle! The 100 hp car is powered by a 1981 Opel engine, while the exquisite finish is draped with five layers of waterproof and fire resistant lacquer.
Wooden Car of the Future: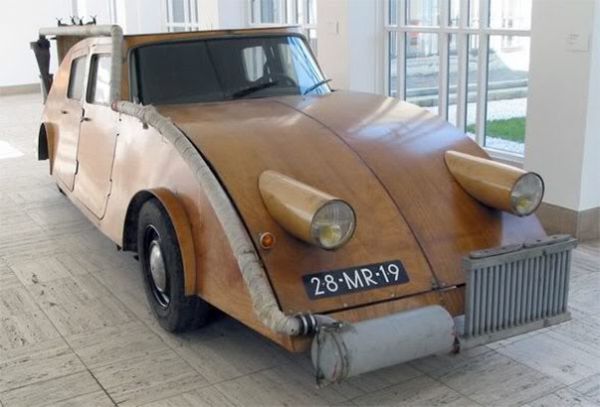 Are those headlights a replication of twin-cannons or periscopes, we couldn't say for sure, but what we do know is that this wooden car was contrived by one Joost Conijn, and it supposedly runs on wood. Flummoxed?! Yes, at least according to VisualEssence, the car runs on steam with wood as a burning fuel. Another important piece of information is that the creator actually wants to travel through the woodlands of Europe with this 'woody' contraption (and that almost makes it a record number of wood usages in a paragraph!).
Sada-Kenbi Wooden Car: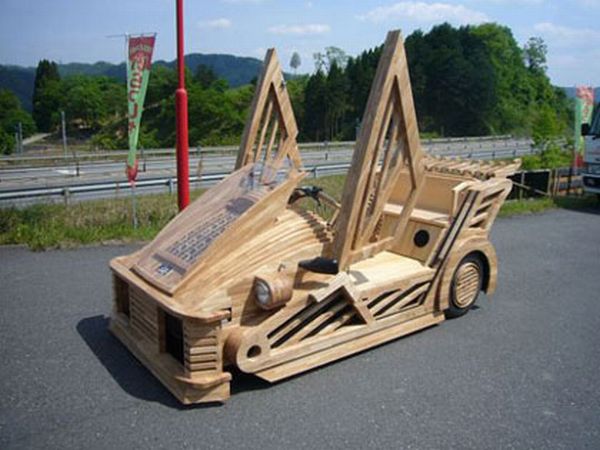 This bizarre conception from Japanese shop Sada-Kenbi can spurt to top speed of 90 kmph, and comes at a relatively hefty price of $32,500. Well, fanatical eco enthusiasts are always welcome.
Wooden Ferrari Boat: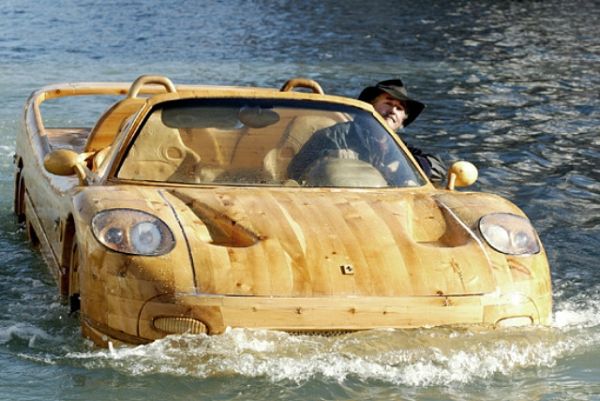 If you closely observe the above image, you would see that the enticingly teasing woodenFerrari F50 is actually gliding above water. That is because it is not a car, but a boat remarkably designed by Livio De Marchi, a resident of Venice. Just imagine the vibrant scene of the bedecked Grand Canal, when the romantic gondolas and ubiquitous water taxis step aside for the one and only wooden Ferrari!
BamGoo – A Bamboo car that runs on electricity: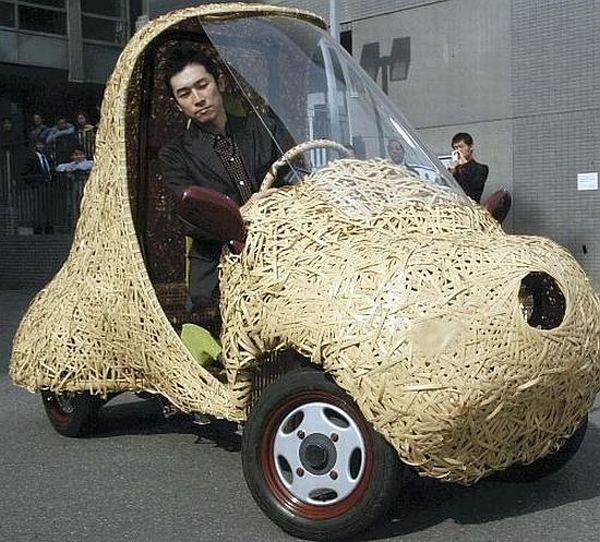 What do you get when you combine hardiness with lightness? The answer is, of course, the all natural bamboo. Now, the above car may have an odd resemblance to Snoopy, but the body of this conception (named as 'BamGoo') designed by researchers at Kyoto University is entirely composed from bamboo strips. And rather notching up the sustainability level, the petite 60 kg car is all electric, which can scamper for 30 miles on a single charge.
Bamboo Car Concept Rocks The Design And Tech World: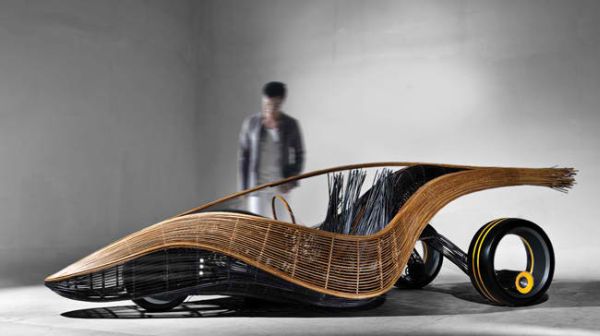 Finally, here's a concept car that can prove to be a fascinating model for futuristic renditions of other bamboo constructed cars. Ingeniously contrived by Filipino industrial designer Kenneth Cobonpue and christened as the Phoenix Roadster, this automobile has a body made from 100 percent biodegradable bamboo and rattan. While the inside still doesn't have a proper engine, the curvilinear aerodynamic form does manage to exude that sense of refined classiness.
Argentine designer conceives an all-electric wooden tricycle: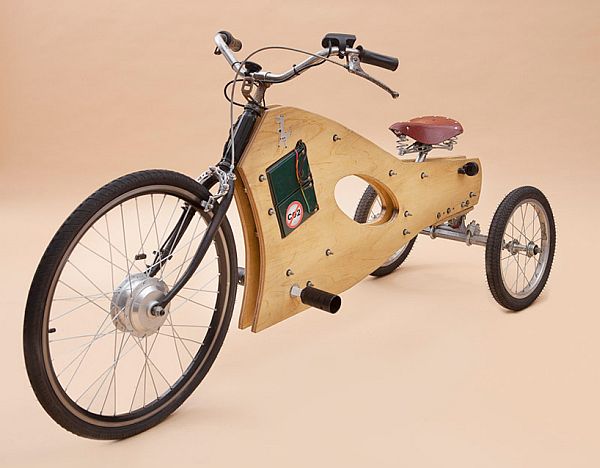 Some simplistic conceptions manage to infuse in us a rather consuming sense of reminiscence and antiquity. Well, Fernando Ponce's electric bi-directional, retro trike certainly falls into that latter category, and it does allure us with its 'green' demeanor. Composed of two joint wooden panels, which hides the main batteries, this zero emission bike will be powered by a front wheel internal hub motor and can be easily controlled with a handle grip.
Don't go off-road in electric car made of bamboo: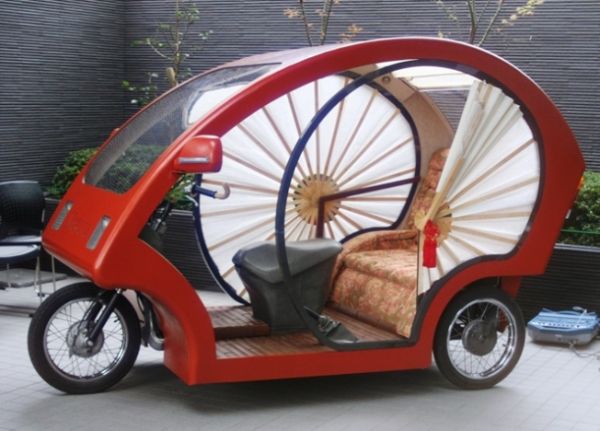 With the frame of an auto-rickshaw, the three-wheeled, electric Meguru is the fruit of a collaboration between metalworking firm Yodogawa and blade maker Kinki(?!) Knives Industries, both based in Osaka. The exterior is metal painted with vermilion lacquer, while the flooring is composed from bamboo and the circular covering 'folding fans' are made up of paper. Coming to the specs, the vehicle is powered by a lithium-ion battery (that takes two hours to charge on a household power supply), and has range of 25 miles and a top speed of 25mph. The designers tout this vehicle to be sold at less than $10,000.
Wooden Car: Mahogany masterpiece on road: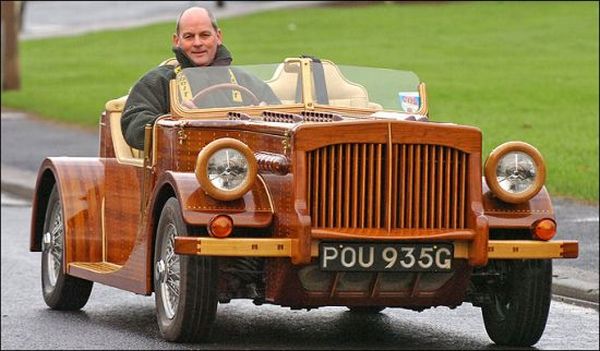 Another vintage conception made from wood, and this time it is designed by cabinet maker Mike Morris. After two years and thousands of pounds, the designer has finally got this 'venerable' conception on the road with a top speed of 40 kmph. And what's more, Morris actually plans on selling this one for financing a more ambitious project.
Opel's latest launch in the Woods: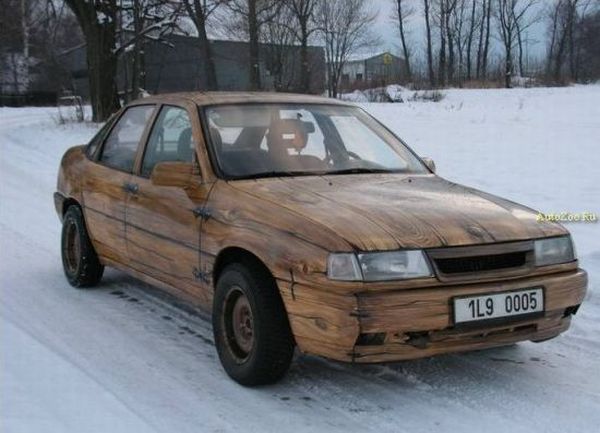 Well, this may seem timid when compared to the above entries. Nevertheless, there is no denying of the meticulous lengths the designer has gone to contrive this wooden Opel. Though we are not certain about its specifications, but the rusty, aged look does manage to accentuate upon the wholesome charm of this 'naturalistic' vehicle.