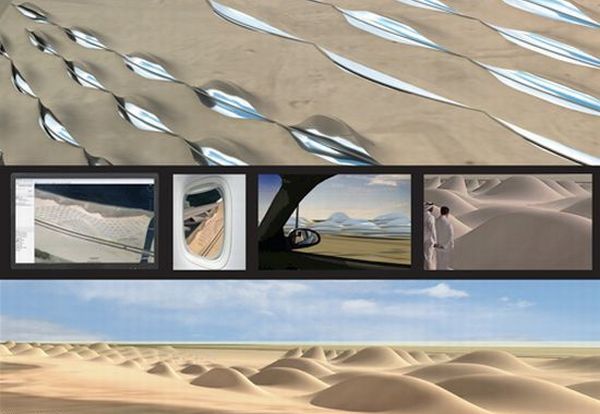 When creative acumen meets the need of the hour, beautiful operatives come into existence. At this point in time, renewable sources of energy and energy conservation are the needs of the hour, while the creative power is represented by artists and design icons from all over the world. Creatives creating art installation to prove their energy generating capability has been there over the past few years. Let us now discuss some of the best energy saving and producing art installations the world has ever seen.
The Lunar Cubit: A 1.74 KW generating art installation outside Masdar City, UAE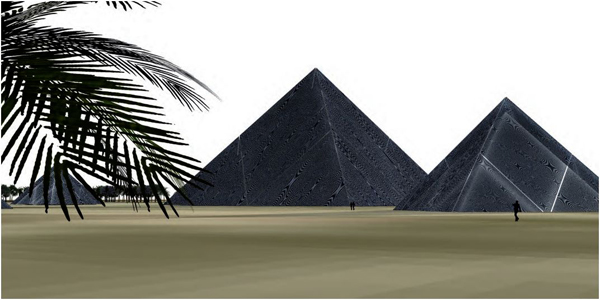 A winning design by the New York based team of Robert Flottemesch, Jen DeNike, Johanna Ballhaus, and Adrian P. De Luca for the 2010 Land Art Generator Initiative (LAGI) design competition, the Lunar Cubit is more solar than lunar with a 50 ft pyramid as its centerpiece is covered entirely with frame-less solar panels. It is expected to produce enough energy to power 250 homes daily.
Energy-generating Kite Park offers extreme green parasailing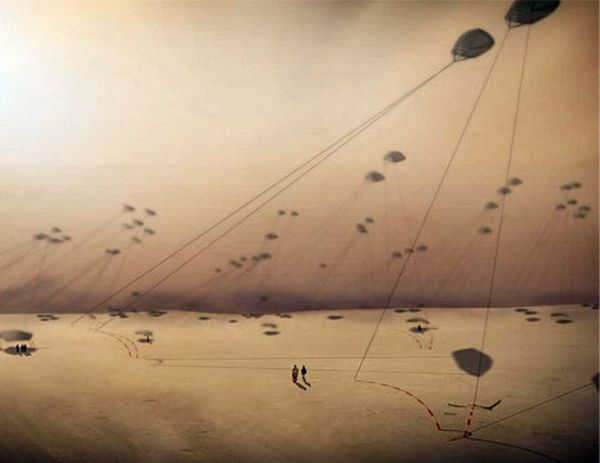 Tethered to flexible posts, these 200 para-kites use the innovative Windbelt generator to convert wind into enough electricity to power more than 600 homes. The Kite Park thinks more than just energy production, as it goes a step further and thinks about energy application too. Colombian landscape architecture studio Paisajes Emergentes have just recently unveiled plans for this outlandish beauty which will put behind all the guilt of energy wastage and usher forth a new era in energy harnessing.
Solar powered 'dunescape' combines sustainable energy production with environmental art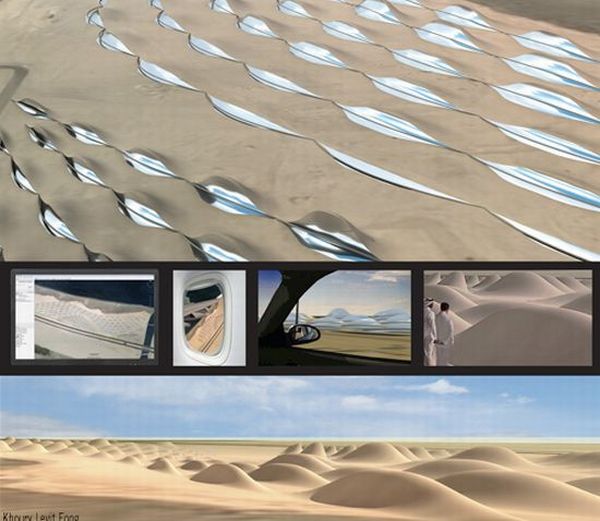 Another night breaker and illuminator, the solar powered Dunescape creates solar powered, steam generated electricity. The concave shaped mirrors on it reflect sun's rays upon the pipelines to superheat the liquid contents and use the generated steam to operate turbines houses. El Magnifico, wouldn't you say.
WindNest art installation combines aesthetics with clean energy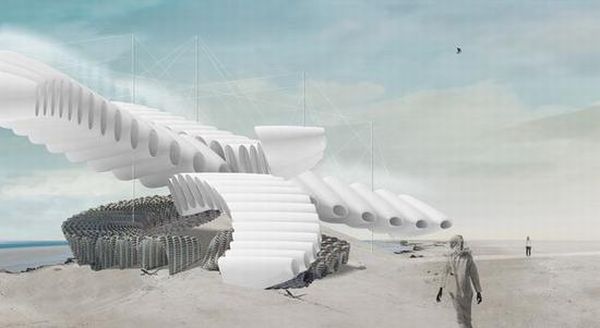 Windnest is one of the entrants in the LAGI (Land Art Generator Initiative) competition. With a part of it on the ground and a part suspended in the air, it utilizes both solar and wind energy. It is equipped with a network of windsock turbines which is then covered in a solar fabric. It shows maximum utilization of both renewable sources of energy and also space dynamics.
Solar Sunflowers: Public art generates more than attention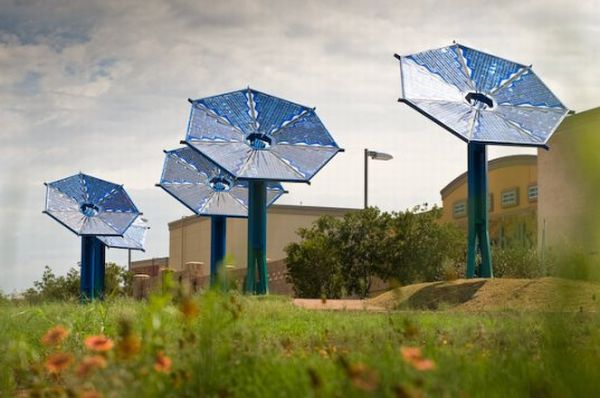 15 towering solar sunflowers stand proud along a path in Austin, Texas. The giant petals are multifaceted, as they provide shade to the tourists and also represent solar panels which can drink in the sun-rays during the day. The energy is then used to power LED lights which illuminate the path after dark. Aesthetic, functional and eco-minded, this innovation packs in everything.
Algae inspired sculpture for 2010 Land Art Generator Initiative Design Competition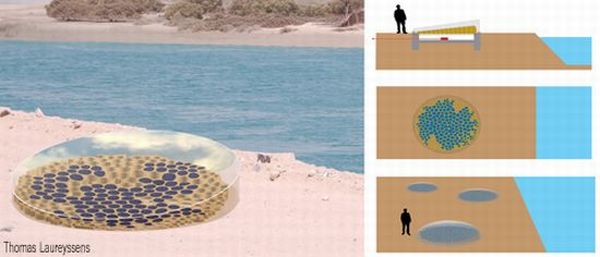 Diatoms are a major group of unicellular algae found in marine and fresh waters and damp soils. Thomas Laureyssens collaborated with a biolab to take and analyze samples of local diatom species and produced microscopic images along with a microscopic 3D laser scan which helped in the designing of this sculpture. Inspired by algae, this structure incorporates solar cells which can store and produce energy for various purposes. This is an epitome of environmental representative and eco friendly art.
Power Flower art sculpture makes electricity to illuminate itself after dark

The Power Flower is a metal sculpture with tiny solar cells embedded in its leaves and a wind turbine in the heart of the flower petals. Both generate electricity and collect it into a battery at the base. This whole process helps in lighting up the night with multiple LEDs and expressly showcasing the 'flower power'.
GREENPIX Zero Energy Media Wall Lights up Beijing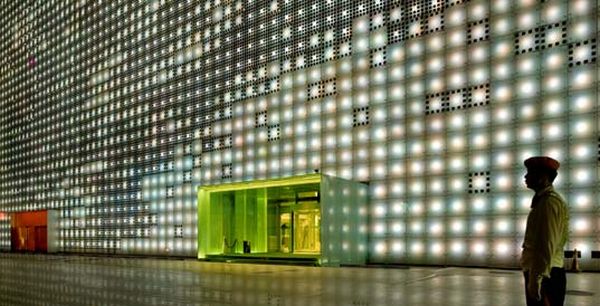 Dubbed to be the world's largest LED display screen, the Greenpix Zero Energy Media Wallstands tall in the Xicui entertainment complex in Beijing. It harvests solar energy during daytime with the help of photo-voltaic cells and is embedded with intelligent software which allows the skin of the building to respond to internal and external data. When combined, these features provide an exuberant show in the darkness of the night. Moreover, the giant wall throws light at the possibility of eco friendly entertainment.
Transmission Art and Solar Energy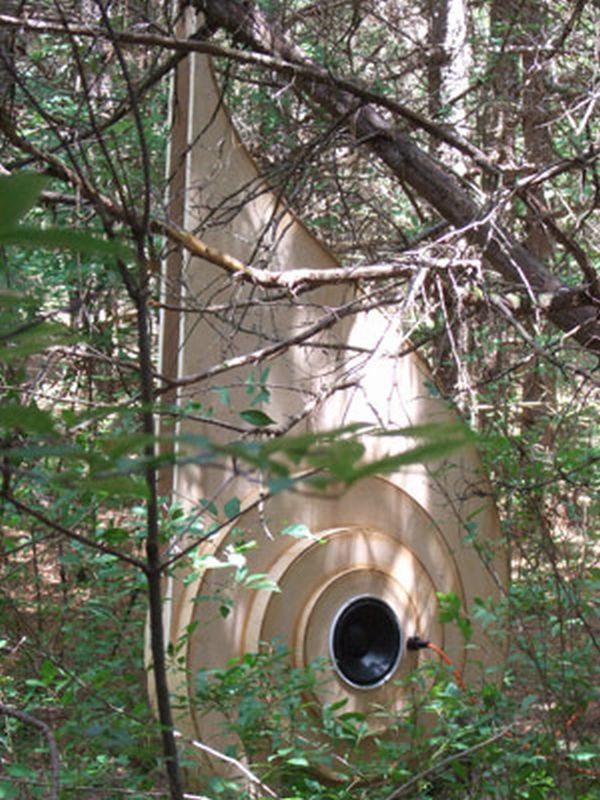 The Earthspeaker is a sonic wonder developed in the Greene County hamlet of Acra. It uses solar energy to emit sound at night. The sculpture first absorbs solar energy during the day and records environmental sounds and plays them back at night. It creates a an environmental 'farm sound' ambiance and makes for a great inspiration too.
Ecology meets digital design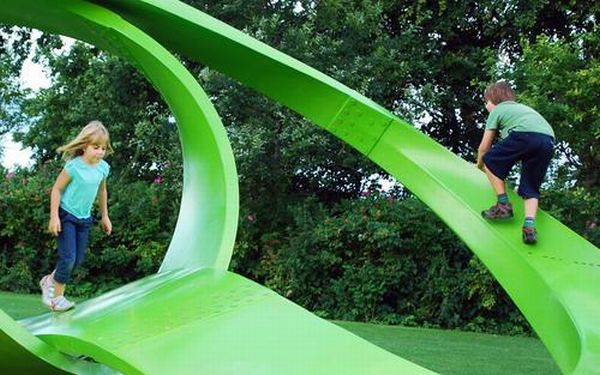 Louisiana Museum of Arts houses this piece of science that combines sustenance with architecture. It is a bright pavilion made of cork and bio-resin which generates energy from the impact of the footsteps of the visitors. They have in-built sensors to initiate the energy harness. Danish architecture firm 3XN designed it as a part of the 'Green Architecture for the Future' exhibition. A self sustaining unit, it contains 1mm flexible solar cells and piezoelectric materials that generate an electric current from the weight of the visitors are laid in the floor.