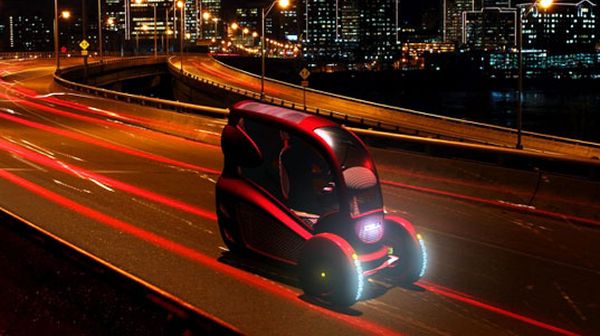 There has been a great change in the way our transportation – both personal and public – has improved technologically, looking after individual and varied requirements of the modern-day commuter. Automobile designers have become extremely innovative and have come out with vehicles that have futuristic features, making the designs and technology more dynamic and customer-centric as we are living in a fast-paced world. Given below are some awesome cars with features that enable them to change shape – making them the ultimate futuristic vehicles.
Scarab: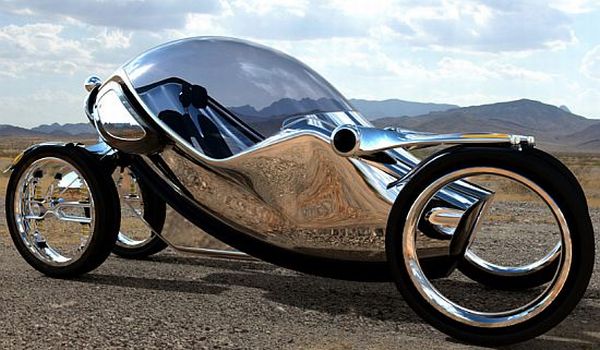 Deriving its name from the Scarabaeid beetle, which is considered divine by ancient Egyptians, this shape shifting aerodynamic car is the creation of David Miguel Moreira Gonçalves. Assuring environmental safety, this vehicle is equipped with sensors, a radar, GPS and EW brakes, apart from a set of assorted components that can be exchanged to alter its appearance. To make it more efficient, the wheels of the car have electric motors fit within them, while you have the option of running it on biofuel, battery and fuel cell.
Peugeot 888: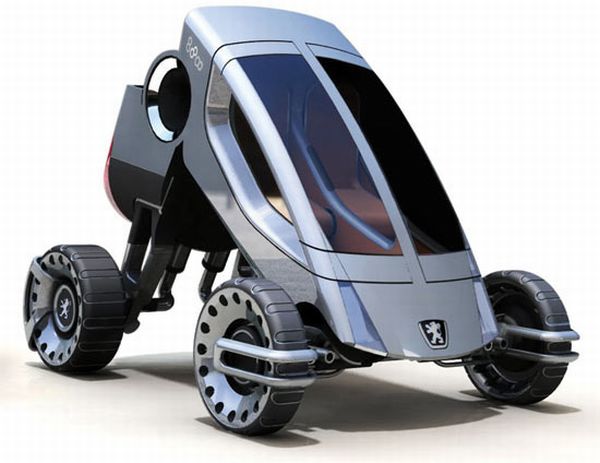 This piece of machinery will definitely appeal to lovers of high-end technology because of its ability to become totally flat on the road giving you the feel of a sports car. The solar panel make it environmentally-friendly. It can equally sustain a smooth ride midst a busy road by recoiling to a convenient size that also facilitates better parking. The master craftsman behind this extremely clever design is Oskar Johansen, hailing from Norway. This funky car will always be at your service should you decide a trip down the countryside. Perfectly spacious for two, it also accommodates your luggage with much ease.
Enyoii: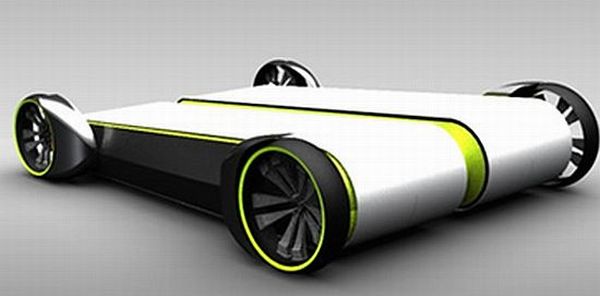 This breathtaking design basically caters to nature lovers who find it hard to quench their thirst for stylish cars and was unveiled by designer Gerardo Delgado Martinez. Driven by battery which is restored by a generator, this vehicle comes in a body of plastic, though a few components are metallic. The unique feature of this model is its ability to attain any form desired by its driver. You can modify the shape of this car by positioning the pistons differently. Another amazing feature is its steering which can be operated using a touchpad which in turn functions using Wi-Fi. The car is claimed to achieve a maximum speed of 40 kilometers per hour.
Plus concept: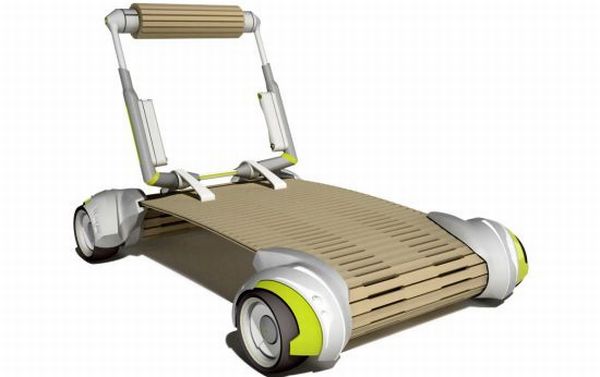 The brainchild of David Vega is a truly green car that promises a variety of features and utilities without harming its immediate environment. Fuelled by electricity, this vehicle allows you to alter its shape depending upon the number of its riders and the amount of traffic. Rightfully called "Plus" this machine can offer multiple options to suit your likes. The curled floor of the car facilitates expansion to accommodate seats for more occupants. All four wheels are run by electric motors. Defying the norms of a traditional car, this one is managed by Wi-Fi.
Rinspeed iChange: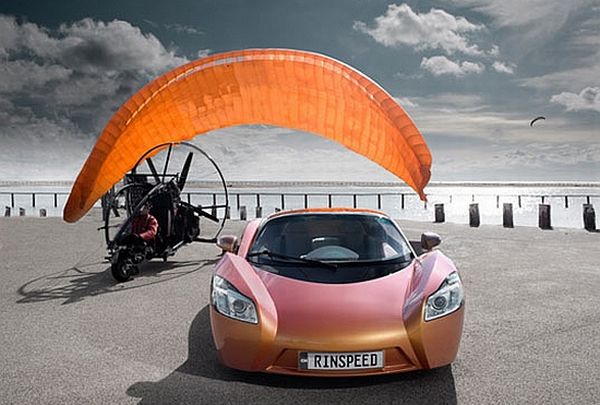 The epitome of innovation, Rinspeed has been a part of Geneva Auto Show held last year. This model is claimed to have features as unique as its preceding model that acquired fame as a diving car. Named "iChange", the car is a perfect machine for those who love a combination of eco-friendly vehicles with high-tech designs. Equipped with solar panels that never let you run out of batteries, this stunning car allows you to alter its appearance and space depending upon how many people you wish to seat. One-time charge can take you as far as 90 kilometers. The minus point: It may not appeal to those who are willing to go for a mileage not less than 100 kilometers, that too in an electronically run car.
Audi Concept: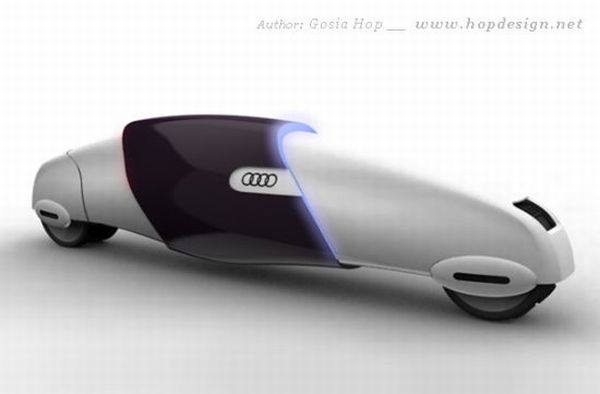 Here's a car that will give you the feel of a spacecraft on wheels!! Engineered for Audi and designed by Małgorzata Hop , the car has a sleek body carried by two wheels that runs on bio-diesel. Maneuvering is well taken care of since the rear wheel splits into two transforming it into a tri-wheeled machine. A similar convenience is offered while parking as it recoils its body and stands only 1.5 meters long. It can accommodate two people, sitting one after the other. The hallmark of Audi makes it extraordinary a car.
SKUDI: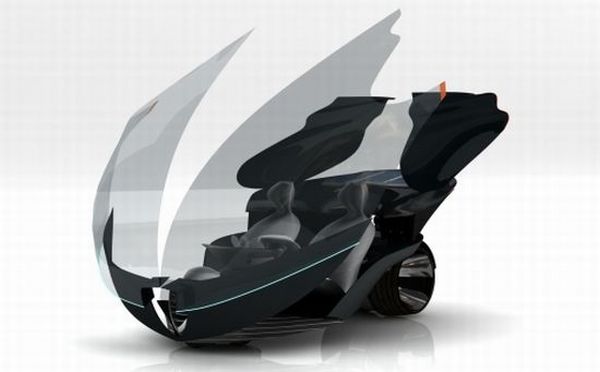 The sheer design of this quasi-bird car makes it extremely desirable for those who refuse to settle for conventional cars. Conceptualized by Ahmad Moslemi Far, this next-gen car has looks and design to die for. Propelled electronically, this super bird derives its inspiration from mythological epic heroes. Extremely efficient in saving space and fuel, this car can accommodate two passengers with ease. It can be maneuvered smoothly, thanks to the shape of its wheels which further help in its speed and overall performance. The SKUDI is truly a fantasy car for the young.
Maserati Fractal: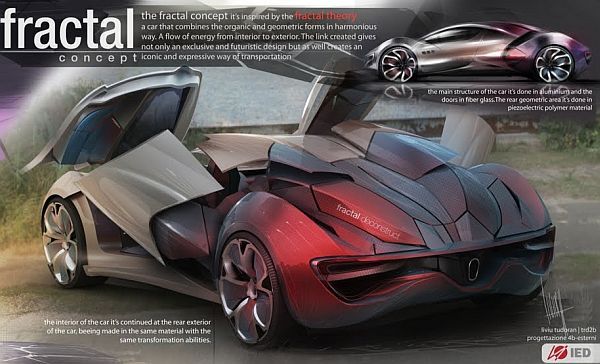 Sophisticated looks of a sports car and eco-friendly at the same time, the Maserati Fractal is a design brought to you by Liviu Tudoran. Though it appears to have landed straight from the Transformers, it nonetheless has features that are essentially similar to one. A defining model of futuristic technology in automobiles, this car can easily be dismantled into various single components. Put together, these parts combine to give you an amazingly fashioned car that can accommodate more than two people.
The Cell: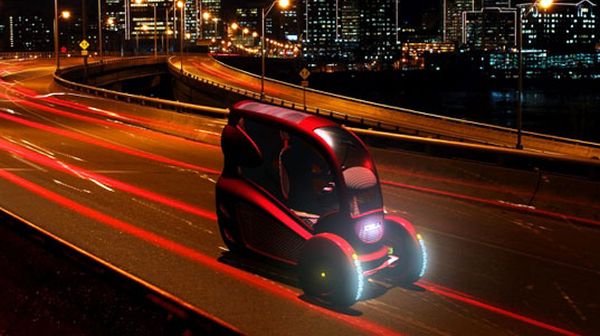 A head-turner and termed rightfully as the "Cell", this car showcases a huge transformation in the concept of travel itself. An innovation by Tom Kent, the model highlights a number of solutions to problems like fuel emission, space and roads chocked with huge amounts of traffic. With an in-built facility to charge its batteries, this car is a perfect companion for two passengers and offers a unique driving style.
Metromorph: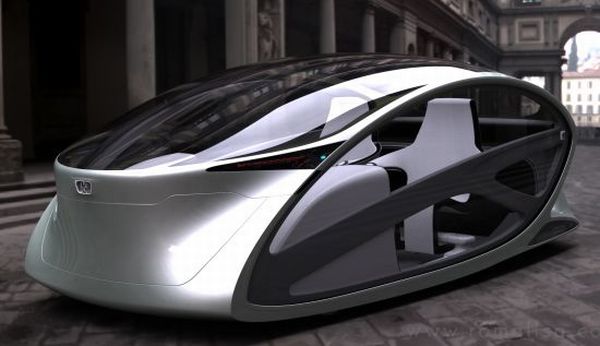 Roman Mistiuk is the mastermind behind the design of "Metromorph" that serves both as a fuel-efficient car and a balcony! Now experience the thrill of climbing a multistoried apartment on your wheels. This car is truly amazing in its variety of features apart from its astonishing looks. The car ensures all safety measures while riding up the wall, resembling an elevator or while functioning as an ideal car on road. It claims to have won many hearts. Considered externally, effective use of space has lent a high degree of utility to this model since its doors open up easily even in a constricted area while internally, the seats are positioned and managed such that they remain leveled irrespective of the angle at which the vehicle is. The battery backup makes this astonishing design a green car that respects the need to reduce pollution.