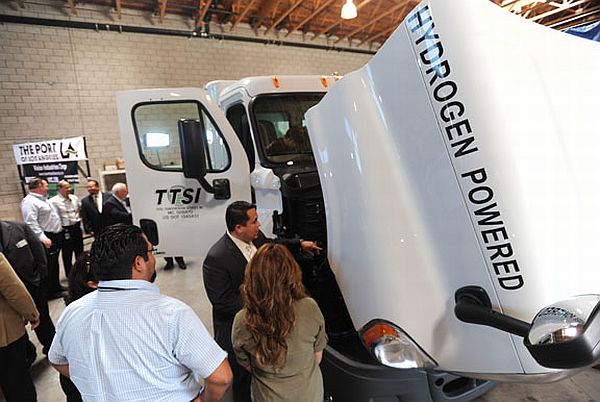 In a yet another green development, Vision Motor Corp. has rolled out the world's first hydrogen powered big rig which has been designed as a completely pollution free vehicle. Named as Vision Tyrano, this truck has an electric motor which runs on a battery that will be recharged by a hydrogen fuel cell. It can run up to 400 miles with upto 80,000 pounds of load on it.
Big trucks are considered as the carriers of the modern economy. An environmentally friendly truck would certainly be a better option than the other gasoline guzzlers. Also, at a time when most of the auto-companies don't want to risk any new operation process, this truck is seen as an important development in the context of our continuous search for technologies that can cut the pollution levels significantly.
Priced at $270,000 each, the zero-emission Tyrano trucks has been equipped with latest technologies like remote diagnostics and touch screen displays. The truck will undergo rigorous tests for a year at the ports of Los Angeles and Long Beach by Total Transportation Services Inc. which wants to purchase upto 100 of these trucks upon successful completion of the trial run.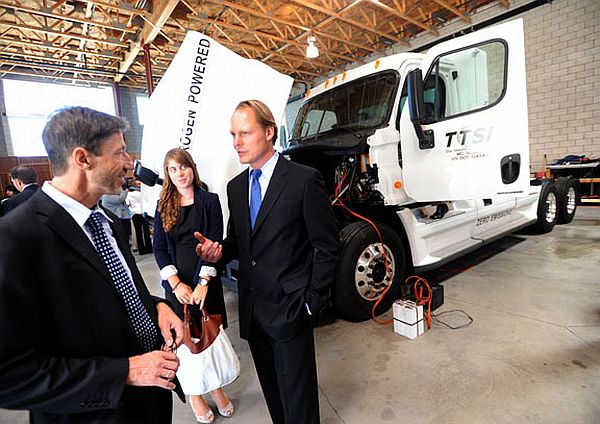 Development of hydrogen powered vehicles has been a new trend in the major auto-markets of the world. As, unlike the vehicles that run on petrol, diesel or gasoline, a hydrogen powered vehicle produces only water as a byproduct. In fact, the CEO of the Vision Motor corps, Martin Schuermann, says that one can tap the water produced from the engine of the Tyrano by putting a water faucet on the dashboard of the truck and drink from it.
However, there are certain hurdles that impede the commercial viability of the hydrogen fuel cell-based vehicles. The first is the unavailability of hydrogen refueling centers. Secondly, a lot of energy from the hydrocarbon fuels is spent to produce hydrogen, thus balancing the zero-emission produced by such vehicles. Future of Tyrano will also be tested on these grounds.
Via: Dailybreeze