Green weddings are a hot favorite among cool couples who worship Mother Nature. A fitting tribute would be to obviously have a "Green Union" by abandoning the extravagant route and demonstrate their environmental commitment. The amount of resources such as food, travel, invitations and flowers that go into a wedding is incredible. You don't have to give up any of these to have an organic wedding; just making a conscious effort by trying out alternatives should do the trick.

Let's find out how: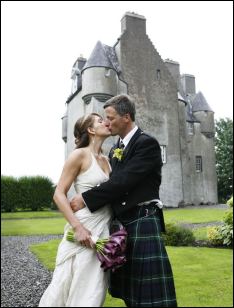 Invitations: Invitations see the bin once the wedding is over for sure. Of course, that doesn't mean you should stop inviting guests; Hand-written invitations on hand-made papers or recycled papers are a great option. Or get creative and send in paperless invitations by inviting guests over designer e-mails.

Venue: Get blessed by Mother Nature by opting for an outdoor wedding in a nearby park over an energy sucking reception hall. You will also be saving a lot of fuel if you choose the venue that is not far off from the place you stay. If Guests know each other, they could plan 'car pools' or rent hybrid vehicles.

Flowers: What is a wedding without flowers? You must know that most cut flowers travel long miles to reach your place, so opt for rented potted flower bearing plants. If you are not in a hurry, you could grow them yourself in advance so that the flowers bloom just in time for the wedding.

Lighting: You don't need expensive chandeliers to brighten up your wedding. Candles not only give a personal touch but also add a charm to the romantic event.
Food: Exotic dishes are out, as the ingredients travel hundreds of miles and you don't want to add carbon miles here. Design a menu that uses products that are not only organic but also grown locally. Let the menu be short and sweet, so that guests don't contribute by leaving food on their plates. Last, but not the least, donate any leftover food to a charity and get blessed!
Well, if you think you still need help, check out wedding planners who specialize in making your "organic wedding" dreams come true. Get inspired by finding out what other couples tried to make their green wedding a great success here.
Do we hear your wedding bells ring 'green'?