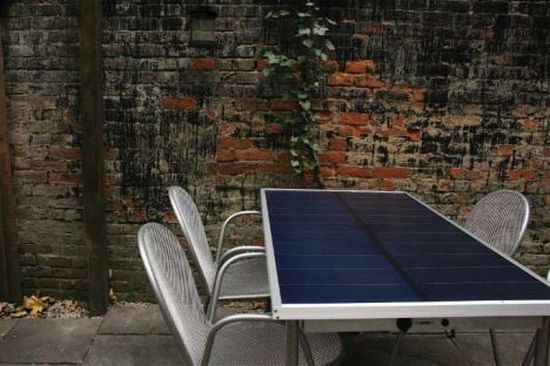 Working for hours at a stretch shut up in your room can be exhausting to no end. The Sun Table gives you a chance to do your work while enjoying the beauty of Mother Nature. With this, you can concentrate on your laptop while allowing the gentle breeze and the warm sun to soothe your senses.
A project of Brooklyn-based Sudia Design Labs and designed by Devang A. Shah and Michael Low of Brooklyn. One glance at it, and anybody would pass it on as a regular standard table. But no, this one actually contributes towards making the world a greener place. Let me tell you more. This weatherproof table is covered in solar panels and is able to produce enough electricity to power your laptop and other electronic paraphernalia, even a television and DVD player.
Now for the technicalities. The maximum storage for the battery is 13 amps hours at 12 volts and it gets charged in three hours under full sunlight. To be more precise, the Sun Table allows for three hours of laptop use, and a couple hours of television. The included inverter provides 120V AC, so that you can plug in anything. The table features a LED display that keeps a tab on the battery's charge level. The very moment you load the Sun table up with more than 150 watts, the inverter beeps and saves your battery from being overloaded.
So what effect does the Sun Table have on the environment? It cuts down on your electricity consumption. Most parts of the table are aluminum and it comes flat-packed in recycled materials, which makes for easy transportation.
However, the price may be a deterrent for some people. It's up for sale at US $3600 and if ordered for now, will be shipped in March 2008. I just wish it were a little more visually appealing.
Via: Born Rich