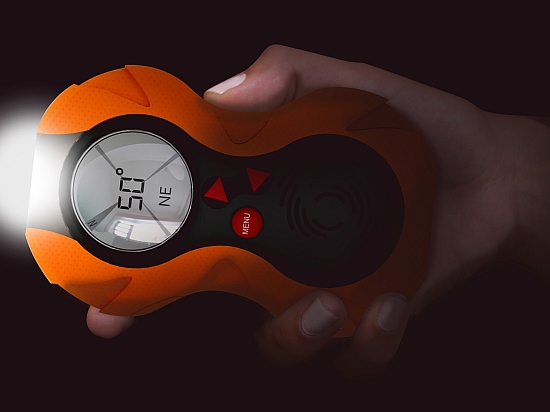 Disasters and accidents might happen anywhere in the world, as they could neither be predicted nor avoided. Though we cannot escape from such natural disasters, we may survive with the help of some emergency gadgets that rely on clean sources of energy so you don't have to worry about gadgets that don't have any juice when you need them the most.
Track Talk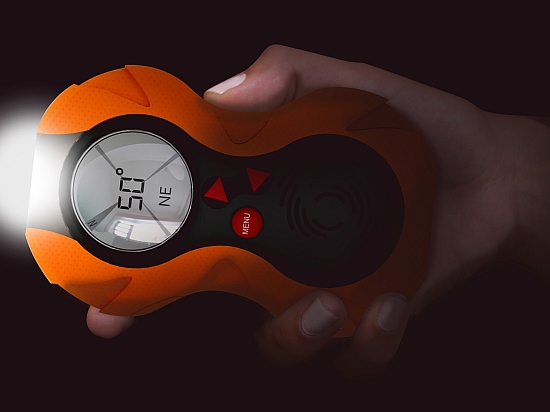 Track Talk is a multi-utility device which helps trekkers, mountaineers, travelers etc. by guiding their path with its navigation feature. The device has a flash light, digital compass and a communication facility as well. Its user-friendly interface gives an easy access to its features. You may never lose your path with this device even at night. The ultra high frequency waves makes communication possible and its flashlight uses LED technology. Designed by Renata Veiga, this device could be charged anywhere in the world as long as solar light is accessible.
Weathermate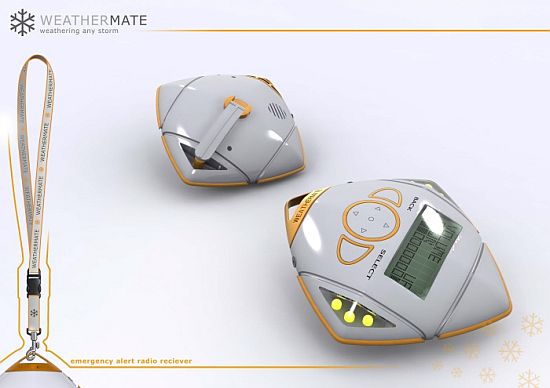 Weathermate is an emergency device that provides information about prevailing weather conditions. The device utilizes radio waves to receive information and depends on electrical energy. If you run out of charge during long camping, you may hand crank this device to boost up its energy. The crank mechanism is located at the back side of the device with a rotatable handle.
Bottle Light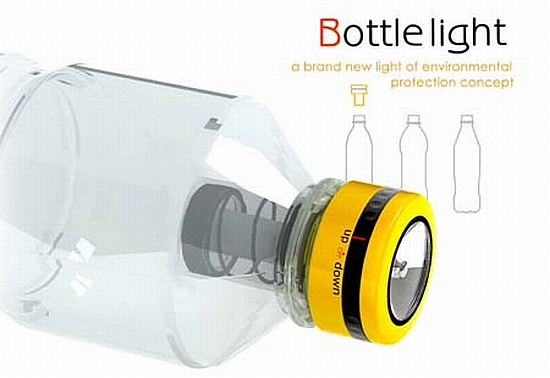 Bottle light is an innovative concept proposed by three industrial designers- Jia Peng, Cheng Peng and Wang Dong Dong. These designers wished to eliminate the use of chemical batteries, which harm nature after getting discharged. They came up with the Bottle Light concept, which has a small lighting system that could be fitted on a simple plastic bottle at the cap's position. Whenever you press the bottle, the compressed air moves towards the light system and triggers the photons outside as light.
Solaris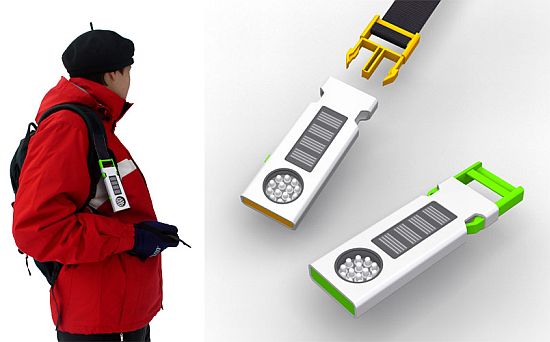 Solaris is a portable device that provides light from solar energy. Its batteries could be recharged anywhere because of its on-board solar panel, which extracts energy from the sun rays and transfers them to the LED lights. The device is ideal for trekkers, campers and for people who live in remote areas, where access to electricity is very limited.
Sherpa X-Ray Torch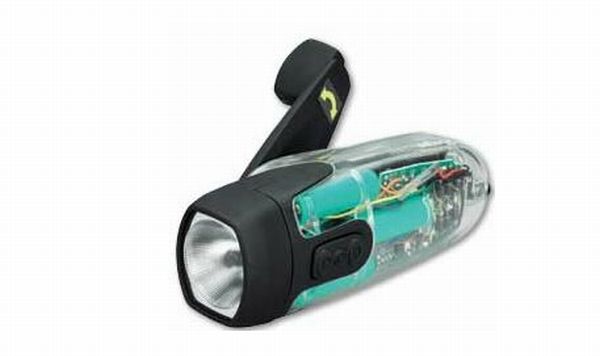 Sherpa X-ray torch is a battery-less lighting device that converts mechanical energy into electrical energy. The mechanical energy should be provided by a little work on its winding system through the handle bar. You would never feel dark with this eco friendly product. In fact, it's very cheap and can be used for everyday purposes as well.
Solar-powered emergency mobile electronics charger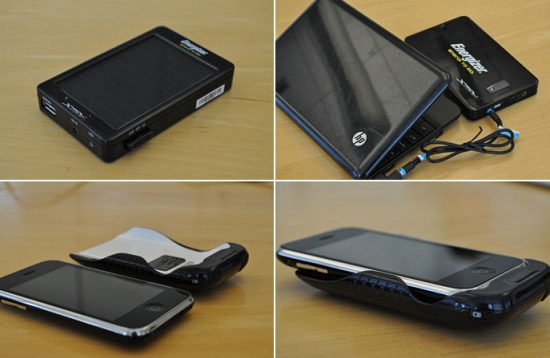 Energizer had showcased a variety of eco friendly gadgets including a solar powered mobile charger. This device could literally recharge your mobile phones even while you are traveling. In fact, it utilizes natural light to extract energy. In addition, the product has the capability to recharge three devices simultaneously, apart the mobile phone's small port. Undoubtedly, Energizer's eco friendly products can recharge your mobiles, laptops and other accessories without relying on electricity.
Emergency flashlight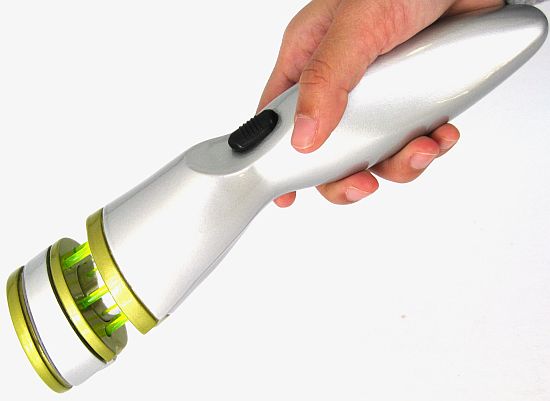 In emergency situations, you may not be able to look for batteries, to power a torch. Jon Thai has proposed an innovative concept which stores mechanical energy as electrical energy in its capacitor. When the light is switched on, energy from the capacitor will be used to power up the LED lights.
LED Escape Light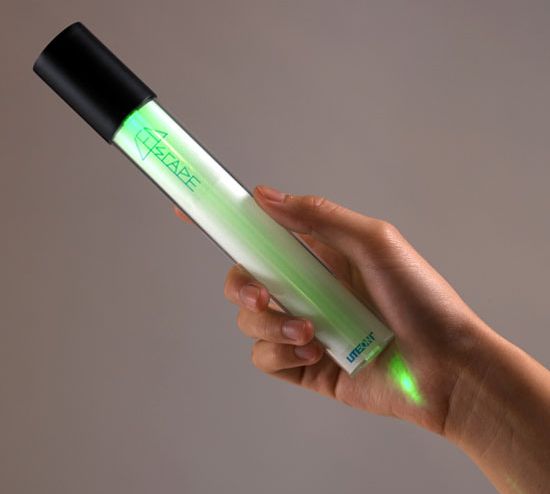 LED escape light is a life saving device that directs your path to a safe exit out of a skyscraper in case of an emergency. An array of light bulbs are fixed on a stand. During emergency situations, all you need to do is to pick one of these light bulbs, which shows you the way to proceed outside the building safely. It also shows you a map that guides you to a safe exit.
Etón Raptor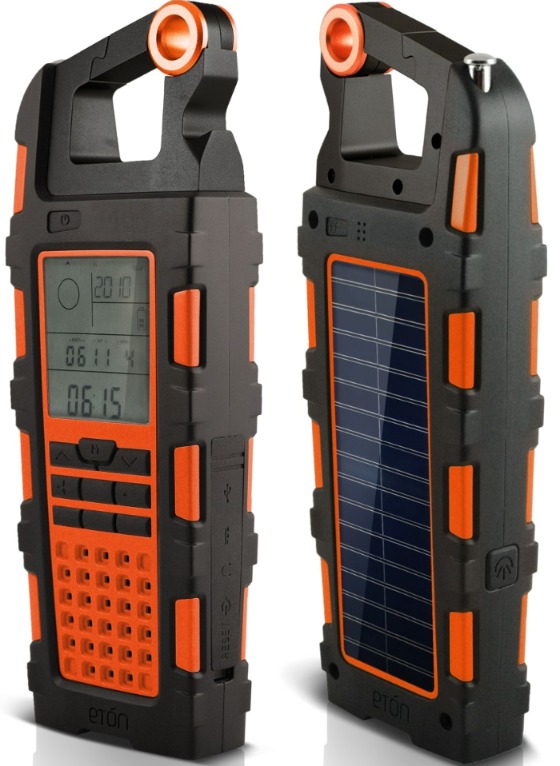 Raptor is a multi-functional device that has an built-in altimeter, flashlight, DC input, barometer, digital compass, bottle opener, and has the capacity to recharge a mobile phone too. Apart from these major features, this device also includes a radio tuner that provides information on weather conditions, and has a digital clock with alarm options as well. Though this device is a little bulky, it has all the necessary features onboard, which serves all your emergency purposes.
XTG's emergency gadget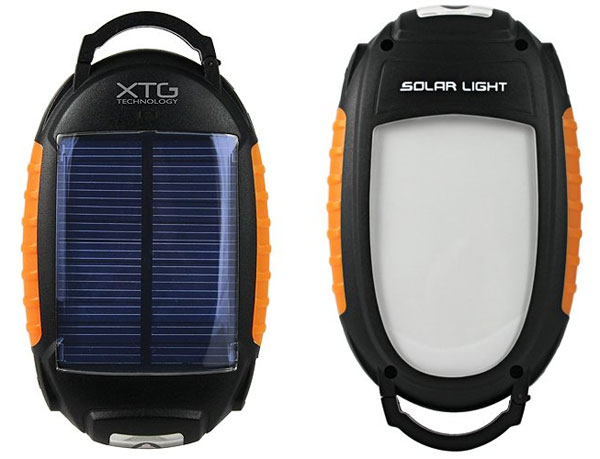 This gadget is an amazing device especially because of its portability. It has three main features that includes a flashlight, lantern and a solar battery pack. This device could recharge your smartphones, iPod, MP3 players etc. by extracting its energy from the natural solar light. In fact, this device has the capacity to power up a mini tablet as well. It can also be hooked on to your backpacks or tents as required.