The SPiNe City Bike is a concept that has been presented by Ronan Spector which focuses on bikes used in the urban areas and how to secure them while parking in a relatively easier, faster and more efficient manner. This bike has a very sleek and minimal frame which would provide the user with a very stable ride across the city. However, a part of this frame would also function as a unique and innovative locking mechanism. Now locking this bike would not be an additional task without the need for additional equipment to be carried along as the SPiNe project is a very stable bike with a stable body frame. Hence, any damage to the frame of the bike would also adversely affect the locking mechanism as it is also a part of the bike.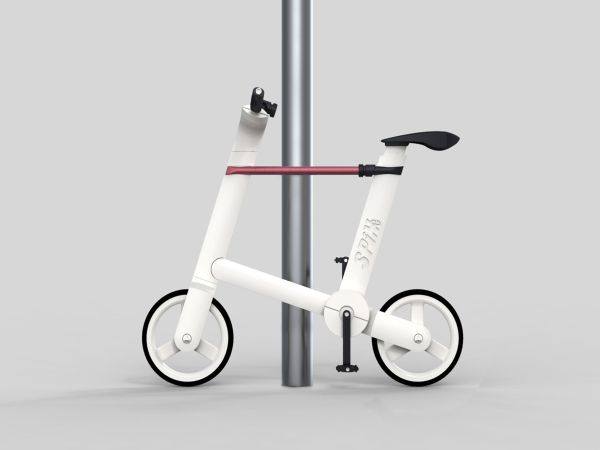 The SPiNe City Bike is a very attractive bike which looks very futuristic in design and is also very efficient in terms of functions. This durable bike has a very minimal frame in which the locking mechanism is also contained. Your bike is completely safe with the foolproof locking mechanism of this bike. If you wish to park your SPiNe bike, then all that you are required to do is to pull out the red-colored locking cord which is located beneath your seat by tilting the seat backwards. The cord can then be easily wound around a pole or any other equipment and then can be slipped inside the handle of your bike that functions as a lock.
Now your concern about securing your bike effectively is taken care of by the SPiNe City Bike, apart from providing the user a smooth ride across the urban landscape. This bike is also available in many attractive colors that would definitely appeal to the young population. Bike riding is now coming back into vogue with people veering towards green and environmentally friendly lifestyles. Biking not only reduces the carbon dioxide emissions within the cities (which already are overpopulated and over polluted), but also can result in improving your health. It is always considered a better option to use a bike for smaller distances rather than a car. However, with the rising price of petrol and the scarcity of the same, a lot of people will slowly move towards the healthier and greener biking option. So, with this cool SPiNe City Bike you can improve your health, have a smoother ride and also not worry about safe parking.
Via: Coroflot