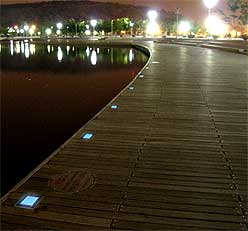 Here is a solution for planting decorative lights or to help guide traffic flow at night without using electricity or burning fuel. IT is all-solar. The Light-Emitting Diode (LED) Solar Energy Lighting Bricks consume just one-tenth of the energy, compared to when used by incandescent light bulbs.
Not only that, it also has 100,000 hours of operating life. Thus, it lowers not only operating, but also overall maintenance costs by nearly 100%. Isn't it amazing?
The brick system modules are designed in such a way that they fit into the road/street bricks, a welcome alternative for incandescence. To withstand mechanical shock and vibration, all internal LED and electronic components are made in such a way.
Via: wwcreativesolutions