Let us paint you an adverse picture of reality in Africa. When it comes to sanitation and water supply, the most basic of human utilities; less than 50 percent of Africans have access to it. In fact, more than 200,000 people die every year because of the lack of sanitation facilities. In such a malefic scope, millions of them have to individually travel far and wide, just to fetch a single container filled with contaminated water. Now, solutions to this massive predicament should be more practically collective in nature than just being grandiose in their conceptions. And, that is exactly what designer Pang Teh Say Chun has conceived, with his 'Skoon'; a water purifying backpack.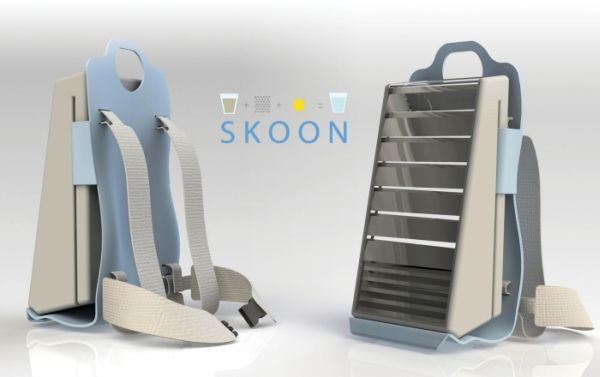 Envisaged as an ergonomic backpack, the Skoon will conscientiously cater to two crucial requirements. Firstly, the spatially efficient attribute of the design will help people to counter to those health problems, which normally arise from carrying bulky containers for a long period. Secondly, and more importantly, the backpack will automatically filter the water, when it is being carried over a long distance.
Coming to its design aspects, the Skoon comprises of mainly two detachable components: a water filling bag and a water filtering component with carrying straps and connection pipe. So, once you fill up the water in the filling bag, it can be transferred through a pipe into the purification bag.
The purification section consists of a granulated sand plastic filter layer, which is responsible for capturing the bigger sediments of the collected water. Furthermore, the filtering procedure also utilizes the Solar Water Disinfection technique, in which accentuated UV rays are used to disinfect the resultant filtered water.
Finally, coming to the ergonomic side of affairs, the back frame will be crafted from a special light weight polypropylene material. The geometry will also follow the curvature of human spine, thus allowing for improved adjustability and equal distribution of load on the carrier.
Via: Coroflot