Gone are the days when people used to throw away their old household items. Now, you can simply recycle your goods and enhance the look of your home. Here are 5 ways for you:
Plastic Milk Crates
So, you have thrown all your old milk crates away, right? Well, have you ever thought of making use of those plastic products for designing purposes? Not only that but you can also use these crates for functional purposes. At first, clean up all those discarded items carefully. Choose any colour as per your desire and spray paint them. You can even create different designs with paints for giving the crates a unique look. These can now be used as eye-catching 'bins' where you can stuff your gadgets or put the toys of your little ones. If you want to use these trashed old crates as footstool, you can simply place a piece of wood on its top and wrap it with some foam and a beautiful fabric. Your fashionable footstool is ready.
Books
Do you really read those old books arranged in your shelf nicely? If not then try to make use of those as boxes. Find out at least two hardcover books of similar size, and you are ready to prepare a small beautiful box. Make sure that the books you have chosen for this purpose are at least 2-3 inches thick. What you need to do is to cut all pages of those books out carefully. Now, the front and back covers of them will be perfect fit for creating the four sides of a box. Just cut them appropriately and glue with each other.
Wallpapers
What have you thought about those wallpaper scraps that have been spread around your house? Let's prepare some wall paintings or murals on the wall with them. At first, you have to cut those old wallpapers into numerous pieces. You can come up with any design you wish to display on your walls. It can be stars, animals, flowers, or even any geometric shapes. Finally, use a good quality adhesive and paste those designs on your wall one by one.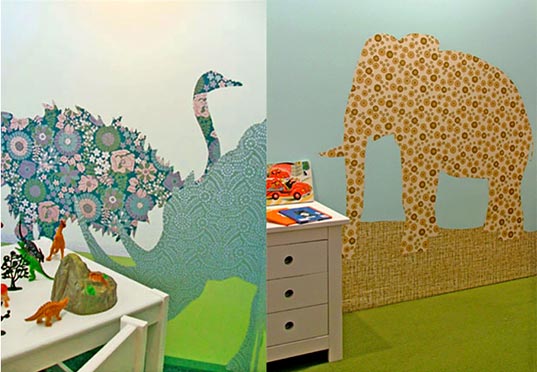 Dresser Drawers
If you are bored of your old dresser drawers, turn them into striking shelves and fix on your wall. Select a shade according to the colour of the wall you want it to be fixed on and paint both its inner as well as outer surfaces. Then, mount its bottom on the wall so that the inner surface faces out.
Clothes
Do not trash your old clothes. There are lots of creative ways through which you can use them for decorating your house. Make pillow covers with your old denims or shirts. Similarly, you can make use of the scraps of your denims and prepare a beautiful and warm quilt too.