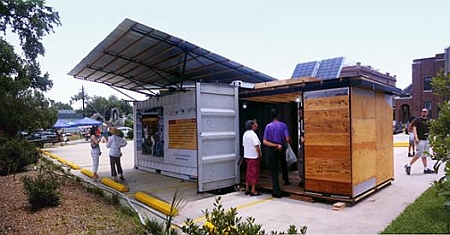 Here is the most useful & the most wonderful product I have seen in a long time. I'm not exaggerating anything here; for once I'm serious about what I'm telling you. I have always believed that true technological greatness is when you can integrate in with the most important necessities of mankind. I always have a debate with my friends about this. It's great if a scientist invented the latest in Nano Technology but it still falls short of achievements of men like Norman Borlong, who have revolutionized farming sector & have provided ways to feed more people.
Here is the "disaster shelter". No, it's not designed to make your life a disaster but is designed to save people from them.This is the Clean Hub This house made of wood which is obtained from recycling old ships. It is "energy & power station combined into one, in a very eco-friendly way of course". It baffles me when I think about it, but the company that made this life saver claims; it can support & sustain about 150 homeless.
It has V-shaped roof collects rainwater, 16 solar panels generate electricity, and an underground reverse-osmosis filtration system recycles and stores water. Now all that can sustain & function as an eco-system; all on its own. It even has a decomposing pit that uses the waste produces as manure to grow its own garden. I think it's a fabulous find, especially in the wake of all the disasters that hit the nations of the world. It's amazing in the fact that it has its own, self sustaining eco-system & is so eco-friendly. This truly deserves some great recognition. The thing is an absolute life saver & is a blessing on the environment.