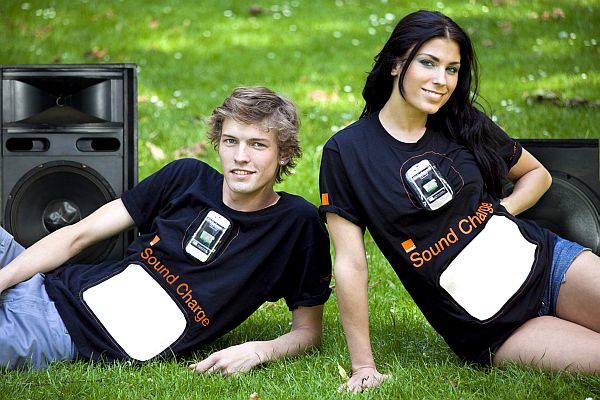 We have encountered innovative conceptions ranging from utilizing plentiful solar energy to renewable wind energy, but making use of the more basic and rather novel sound energy has always been the 'holy grail' for researchers. But this time in reality, telecommunication giant Orange has announced their advanced version of a mobile charging technology in the form of a prototype called Orange 'Sound Charge', at the world famous Glastonbury festival. As the name suggests, the contraption will have the unique ability to charge mobile phones using just sound energy.
As a matter of fact this adroit invention is a collaborative effort between Orange and renewable energy experts GotWind. Regarding the conception, the researchers have managed to reverse the process of a thin piezoelectric film. This A4 sized modified film module was then attached inside a t-shirt. The integrated system thus conceived had the ability to act as a microphone (sound energy being converted to electric energy), with the sound waves being passed through a layer of compressed quartz crystals. The resultant electricity thus produced was stored in an internal battery and transmitted to phone sets via an interchangeable lead.
There naturally maybe some questions regarding the efficiency of the mechanism. But according to the developers, in an atmosphere where the sound levels are more than 80 dB, the contraption can generate up to 6 watt hours (W/h) of power in two days. This would be sufficient to charge two conventional mobile phones or even a Smartphone. And moreover, the convenient yet green mechanism is still in its development stage. The sustainable as well as the fashion oriented potentiality of the conception is bound to be accentuated in its future iterations.
Andrew Percy, head of sponsorship, Orange UK, said:
In a vibrant festival environment such as Glastonbury, sound is such an obvious medium that it seemed like a natural fit to use it in the development of this year's prototype. Orange's commitment and ethos around innovation is as strong as ever and we envisage that this pioneering technology could really change the face of mobile charging in environments where eco charging solutions need to be found. It could even influence trends in fashion, with designers looking to integrate this passive charging solution into clothing.
Via: Orange [Press Release]