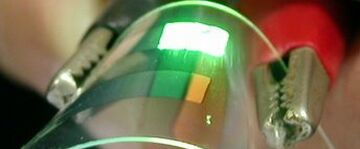 Imagine your homes without electric wirings for lightings! Never mind. Here are the amazing OLEDs (organic light-emitting diodes) that allow almost any surface in a building emits light. This is an ideal, perhaps the best source of light for remote areas in developing and under-developed countries, where lighting in houses are considered luxuries.
Princeton University and the University of Southern California have invented this highly efficient and long-lasting natural light source. You can fix these diodes anywhere from walls, ceilings, furnishings to accessories, making them all light-sources. A 13-years research work has given birth to this amazing environment-friendly light source.
Since these devices are completely transparent, they can be used in windows, which will emit light automatically as the sun goes down.
Via: Trans Studio
Spotted at: inhabitat