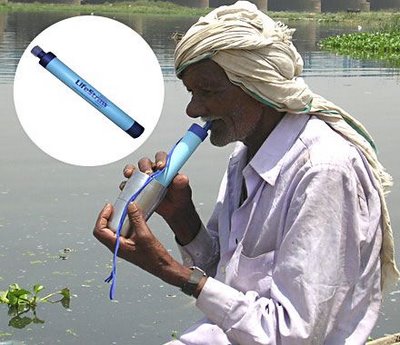 At any given moment, about half of the world's poor are suffering from water-related diseases, of which over 6,000 – mainly children – die each day by consuming unsafe drinking water.
Safe water interventions, therefore, have vast potential to transform the lives of millions, especially in crucial areas such as poverty eradication, environmental upgradation, quality of life, child development and gender equality.
Mobilising LifeStraw offers relief from waterborne diseases of major public concern such as typhoid, cholera, dysentery and diarrhoea. As a personal and mobile water purification tool, LifeStraw is designed to turn most of the surface water into drinking water, thus providing access to safe water wherever you are. Not only that, if you are often going out on vacations, it makes sense to have such a product where you can drink water without fear.

How does this work? LifeStraw personal contains a specially developed halogenated resin that kills bacteria and viruses on contact; a special chamber further increases the exposure of micro-organisms to the halogenated resin, thereby enhancing the killing effect. Micro-filters are used to remove all particles down to 15 microns. Activated carbon adsorbs residual iodine thereby improving the taste of water.
The filtration lifeline of LifeStraw personal is minimum 700 litres or one year (based on a daily water consumption of two litres). It can be stored for three years at a maximum temperature of 30 degrees.
However, this product does not remove complete turbidity from water; however, it removes the bacteria and viruses as well as undissolved particles down to the finest microns. It also does not filter heavy metals like arsenic, iron and fluoride.
LifeStraw is not available for retail purchase at the moment, though you could buy them in bulk and distribute them in case you are doing some interested in charity work.