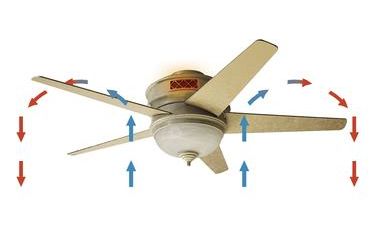 Ceiling fans are something that are only used during summers, however, this unique fan has been specially developed to be used throughout the year. This unique 'Heater Fan' comes with a heater that warms the air and the blades then do the rest by circulating the air for a complete floor-to-ceiling comfort.
The fan also comes with a remote-controlled thermostat so that you don't start baking in your room. According to the developers of this fan, it does not heat your electricity bills as it is turned on only when you need it and in which room you need it, proving to be a much better and an energy-efficient alternative to central heating systems. In summers you can simply turn off the heater and enjoy a cool breeze. The fan also comes with an energy-efficient light.
This amazing fan measures 16″ H x 54″ W x 54″ D and comes in different colors that includes Textured White, Swiss Gold, Brushed Nickel, and Aged Gold. The product is available at Skymall for $349.99.