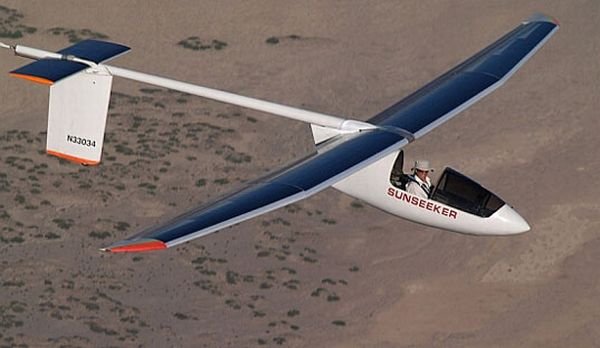 Since solar energy carries the primary advantage of being a renewable source of energy, it is being popularly used in various places where energy is required the most. Aviation industry is also finding 'green' methods that can be used as a source of energy for powering its operations. Moreover, the cut in fuel consumption will also mean, a cut in carbon emission, which has thoroughly increased by 87 per cent by all means of air travel. At this moment of time when the aircraft industry is managing with circumscribed availability of fuel, increasing fuel prices and environmental issues related to carbon emissions from the aviation fuels, the idea of making use of solar power in aircrafts provided a major support to the aviation industry. By making use of solar power as a green way to power the aircrafts, the aircraft industry has also added itself in the picture of companies engaged in utilizing this eco-friendly energy. Here we have five of the famous solar powered aircrafts.
1. Solar impulse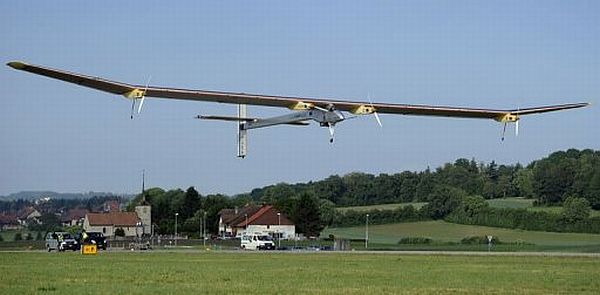 Solar Impulse has been manufacture by Swiss adventurer Bertrand Piccard and his partner, pilot Andre Borschberg. This one seater plane, which is powered by solar energy, made its debut in the Paris Air Show this year, where it successfully flew for 20 minutes at Bourget airport. The 63m (207ft) wingspan is covered entirely by 12,000 solar cells. These solar cells soak up sun's energy to provide juice to the custom-made lithium polymer batteries that in turn power the four engines giving 10 kilowatts of power each. For recharging the batteries completely, the plane requires a 14 hours of complete sunlight. Either of the batteries is located on the linen-covered, carbon-fiber wings and each of them weighs around a 100 kilograms. The plane is designed to store both solar and potential energy. The prototype plane has already been added in the record books for being the first entirely solar-powered aircraft to take a flight for more than 24 hours. It however requires clear skies and windless conditions to fly.
2. Pathfinder solar- powered aircraft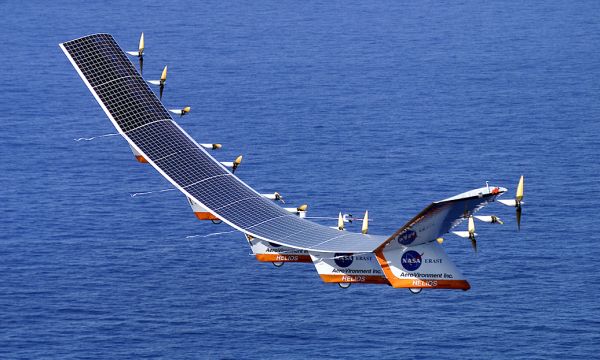 The 'pathfinder' is also a solar powered, remotely piloted aircraft, designed and fabricated by AeroVironment Inc. of Monrovia, California. The light weight airplane was crafted to demonstrate that the solar power technology can also be applied for planes that are intended to fly for a long-duration and high-altitude. The solar arrays are housed atop the aircraft's wings. These solar arrays provide up to 8,000 W of power by absorbing the sunlight at a high noon on a summer day. This in turn supplies energy to the six electric motors as well as other electronic systems of the aircraft. With a backup battery system, the pathfinder aircraft can supply a power for about 2 to 5 hours and thus allows short period flights during the night. The speed of the Pathfinder ranges between 15mph to 20 mph.
3. Helios – solar- powered aircraft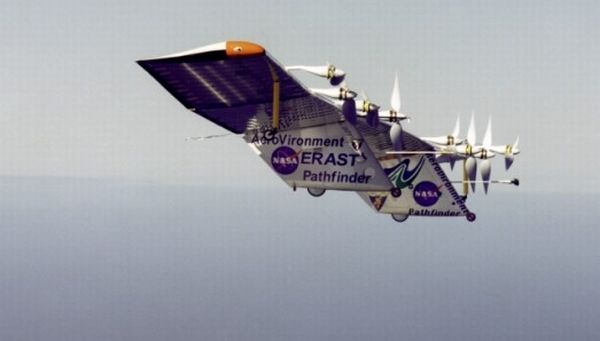 Again built by AeroVironment Inc. under NASA's Environmental Research Aircraft and Sensor Technology (ERAST) project, the Helios is a pilotless aircraft which flies by implying solar energy. This unmanned aerial vehicle (UAV) has a wingspan of 247 feet the upper surface of which is solely covered by 62,000 solar cells, powering 14 brushless direct-current electric motors. Each motor weighs around 5 kilograms. The wings which carry the solar panels produced a power up to 37 kilowatts by absorbing a direct sunlight. But, only 10 kilowatts are required by the plane to fly and the left out is wasted as heat. The typical flight speed is 30 to 40 km/h and can fly up to an altitude of 15000 to 22000 m.
4. Sunlight eagle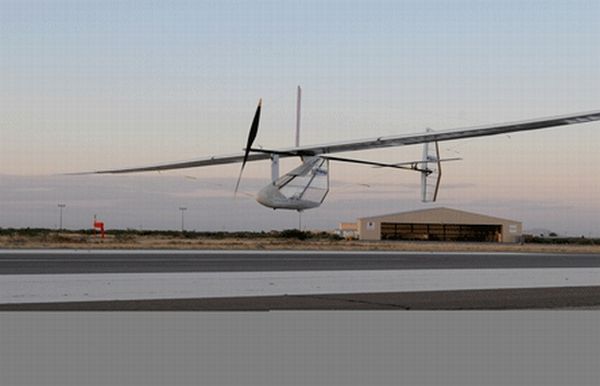 Designed by Aurora Flight Sciences based in Virginia , the pilot less aircraft SunLight Eagle is powered entirely by solar energy. It is a well established company that specifies in the construction of unmanned aircraft. The SLE has a wing span of 114ft, which is made of lightweight and composite materials. The top side of the wings is covered by advanced solar cells that convert the absorbed sunlight into usable power that is consumed by the motors of the aircraft. The plane weighs around 165 lbs and can fly up to a height of 50,000 metres. The high performance batteries used in the aircraft allow flying during nights and on cloudy days too.
5. Sunseeker II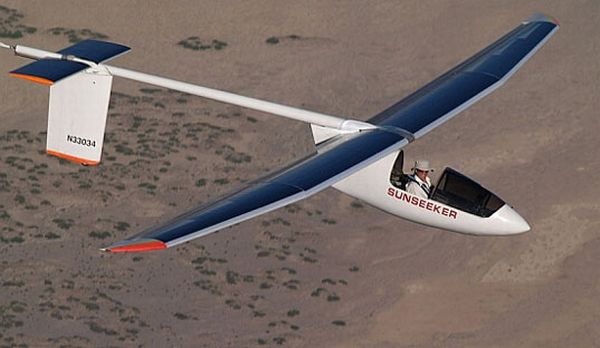 The Sunseeker II is a manned solar powered air plane. The eco friendly aircraft is designed by Solar Flight and is manufactured by the aircraft engineer Eric Raymond. The prime intention to create such a plane was to show that even the solar aircrafts can be a viable means of air travel. The sunseeker II is a light weight plane weighing around 506 lbs. The aircraft is 23feet in length with a wingspan of 17 feet covered with photovoltaic cells to absorb the sunlight and recharge the four lithium polymer batteries. These batteries are hoarded in the wings, giving power to an 8 horsepower motor for a smooth performance. The speed of the green airplane can range up to 40 mph and can cruise to a height of around 3,000 feet.