Most of the people world wide became cautious of recent climatic changes caused because of global warming. Thus, they are opting for an eco friendly residence. Vinyl windows are being used for newly constructed buildings and for replacing older windows. It is a better choice for an eco friendly environment. Vinyl plays an important role when one discusses about the topic of "greenness" of materials used for construction. Evolution of vinyl windows started in 1970. Till date they are being used very efficiently. Because of its energy saving efficiency, they are also being used for renovation purpose. Mostly these are used as replacement windows for existing repaired windows.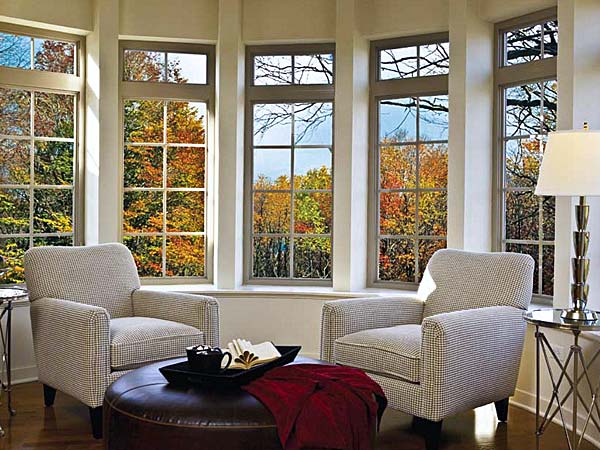 How Vinyl windows are are eco friendly
Fresh air, water and food are essential for any living organism including human beings. Thus, balancing our environment is very essential factor. Let us see how the usage of vinyl windows makes an impact on the protection of our planet.
Energy efficient
Windows absorb the heat from outside. Because of this, almost 30 percent of cooling from an air conditioner may be lost. Vinyl windows are energy efficient. Heat transfer can be reduced with the help of air chambers present in its frame. The main substance used in the production of vinyl is chlorine which has been derived from common salt. Generally, many toxic materials are used in production of other material which leads to en environmental concern. Emission of many toxic gases can be reduced there by saving energy.
A study conducted in hot climatic condition shows that vinyl windows reduced their energy consumption by 6 to 7 percent.
Environmentally safe
Vinyl is the safest construction material. Vinyl windows have less impact on environmental concerns. Several tests conducted on vinyl shows that it is safe to use. Polymer is the base of vinyl windows which itself has the property to stop fire.
Recyclable
Vinyl is recyclable. Most of 99 percent of vinyl materials are reproduced as a second generation product. Many industries are working on buying back the scrap and recycling them as a new product. In this process, vinyl is burned safely assuring the re use of its energy.
Economical
Vinyl is highly durable material. Vinyl windows are being used for years together without any damage. Vinyl windows have longer life as they don't get corroded or broken. Thus, there is no need of substitution which helps to save energy.
Less emission of dioxin
During the process of manufacturing vinyl, very less amount of dioxin is released which does not affect the environment. Vinyl industry did a fabulous work to reduce the dioxin emission level. Thus, only few grams of dioxin is emitted in a whole year. Comparatively, dioxin emission is high in smoke emitted from automobiles which use diesel as fuel, agricultural burning and in few construction material manufacturing process. During the past 40 years, usage and manufacturing of vinyl tripled and at the same phase of time dioxin emission levels declined drastically.
Landfill avoidance
Being a recyclable and long lasting material, weight wise less amount of vinyl wastes are dumped in dump yards. This amount is very less compared to other materials used for windows manufacturing. Vinyl dumped in landfills is less corrosive, thus making it stable. Because of this property, they are utilized in the production of landfill caps and liners.
Though vinyl windows are known to be maintenance free, few tips are are to be taken into account. Clean the windows using mild soap. Care must be taken to avoid scratches on the surface. Clean the window slide in tracks so that the dirt does not affect easy movement of windows. The window surface must be dry as there are chances of fungus accumulation. Check the SHGC (Solar Heat Gain Factor) while selecting vinyl windows according to the type of climate you are located in. Taking all these into account helps you to use the best ever vinyl windows which lasts for a longer period of time.
Though there are few side effects related to the process of vinyl production, it is counter parted by its much more benefits such as energy efficiency and durability. Mainly, its energy conservation efficiency has more impact when compared to drawbacks of vinyl window production.
These days wide range of vinyl windows are available in market to improve the appearance of our rooms. We can select them according to our choice and requirement so that they can fit appropriately in the window opening. They are available in different colors and various models.
Production durability, thermal resistance, less emission gases, energy efficiency, low maintenance and long lasting life are the advantages of using vinyl windows. According to a study, vinyl products are the better eco friendly option when compared to other materials used in window preparation. Thus, vinyl windows are the best option for an eco friendly home.