It's the fact that sharing or uploading high-resolution videos to social media platforms like Instagram, YouTube, and Whatsapp is difficult. The video on your phone, no matter how good resolution it is, comes out grainy and low quality. Furthermore, as you can see from the chart below, practically all popular apps have set a maximum video size that is permitted. Therefore, compressing the video clip before sharing it on social media is the best option to maintain its original quality.

Why are your videos glitching after uploading on social media?
The reason is simple: there are too many users. Don't forget the fact that the mainstream media is designed for viewing predominantly on mobile devices. To save on storage space and bandwidth, almost all these programs implement compression right into their uploading process.
So, the higher resolution of the source video, the more compression is needed to size it down to the specifications of the servers.
How to fix the uploaded video low-quality problem?
With WinX Video Converter, you can easily make videos smaller for social media in 3 simple steps.
Step1: Install WinX Video Converter and load the video
If you haven't downloaded this converter, click the link above to install it on your computer, and then choose "+Video" to load the video on this program.
Step2: Set the output format
Here we need to choose one suitable format for uploading IG Videos, and MP4 is always our first choice, and click "OK" to finish this step.
Step3: Compress and convert the video
Click the "Run" button to start converting the video in seconds.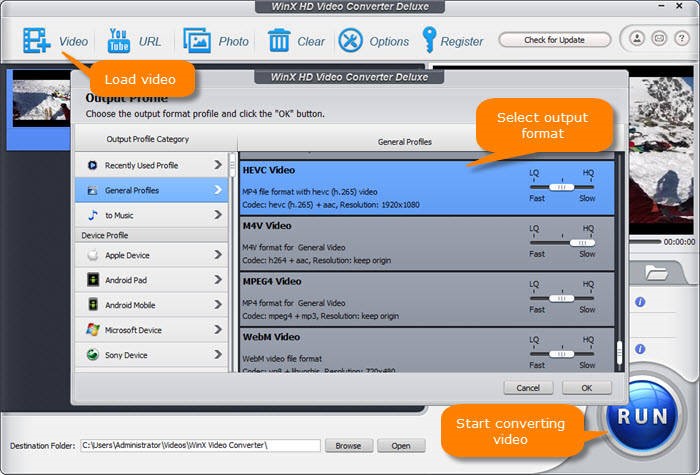 What do you get with WinX Video Converter?
WinX HD Video Converter Deluxe comes with the promise of converting MP4 videos in the quality and format that we want, with more than 370 input and 420 output formats.
1. Support for all types of 4K video
You can convert any type of video (MKV / HEVC / H.265 / M2TS) shot by GoPro, DJI drones, DSLR, iPhone or Android to formats like MP4, H.264, HEVC, MOV, AVI, MKV, WMV, MP3 and many others (over 370!). For example, you can convert MKV to MP4 video in no time.
2. Download any video from streaming sites
With over 1000 supported websites, WinX HD Video Converter Deluxe also allows you to download multiple videos simultaneously and convert them to MP4 and MP3 quickly.
3. Compress video without losing quality and no experience required
By GPU acceleration, it's a piece of cake to directly compress 4K video to 720p which will not make big difference in video quality- you can even compress a video by 90% without losing its original quality.
4. Video Editing Made Simple
You can also edit, crop, split, and merge videos, add subtitles, modify settings like bit rate and frame rate, and much more with WinX Video Converter.
5. Level 3 GPU acceleration
Thanks to the exploitation of level 3 hardware acceleration, it is possible to process videos in 4K at maximum speed, without losing quality.
6. Additional Features
Other features in this program include online video download and a feature that allows you to create an image slideshow.
Final words
This superfast video compressor is available on both Windows and macOS. So, if you are looking for the perfect combination of superior quality and full flexibility, WinX HD Video Converter Deluxe can certainly serve you well.