The stealth of the infantry is futile if the complementary aspects are not satisfied. These are nothing but the auxiliary equipment used to maintain server connection to the headquarters via the satellites, radar devices, wireless equipment and computers. The situation can be grave if they encounter this problem at the time of war.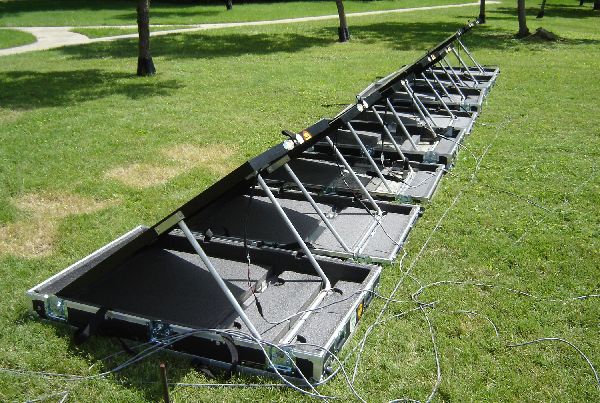 Considering the safety of the infantry, here the Marines, as well as the safety of the nation concerned, the office of Naval Research has deployed a new, compact, mobile power producing equipment that derives its power from sun. It is very compact and can be easily stacked. This assembly time is very less and stealthy at the time of war. It is called The Ground Renewable Expeditionary Energy Systems or GREENS.
The motivation behind this technology came from Iraq, when a request was sent to the US military in 2008 for a portable energy producing device, based on renewable energy source.
The System
The GREENS is 300-watt hybrid battery generator that is capable of converting the incident solar radiations into electric energy, which can be readily used. Rechargeable batteries are also provided to store the energy for use when required. So, what is the utility of this project. There already exists conventional technique of using gas-powered or diesel-powered generators.
The main factor is that of cost and convenience.

1. Cost

$20 billion are spent annually by the Department of Defense on energy. But, the fossil fuels, that is gas and diesel, are fast depleting. Also, it is not possible to refill the generators in the middle of battlefield.

2. Convenience
The best technology is one which requires less effort on the part of the user. It is very cumbersome to use fuel powered generators. Also, the maintenance of the generators is also a very crucial aspect and it can risk the overall performance. This is where GREENS proves to be superior over conventional practice.
Advantages of GREENS
It is very cost effective. Only initial investment is required.
No need for stocking gas or diesel barrels.
Less technical maintenance required.
It can be easily stacked.
It is sturdy and can bear all rough and harsh circumstances.
It can work satisfactorily even under extreme temperature of 200 degree Celsius.
Via: Smart Planet