Honda has described its sedan AC X as providing an enjoyable and comfortable driving experience as well as long distance motoring. AC X is the abbreviated form of Advanced Cruiser Experience. The car has specially been designed for offering relaxing journey during long distances and also boasts of striving future thinking technology. This sedan boasts of aerodynamic and new fluidic design. Its grand exterior gives it a stylish and sporty look. The design of this sedan is a perfect blend of both traditional and modern. Its silvery metallic finish coupled with neon blue peeking gives the auto a unique, swish and splendid look. It boasts of both hi tech and comfortable interiors. The spacious inside will definitely make this new sedan an apt pick for a family motor vehicle.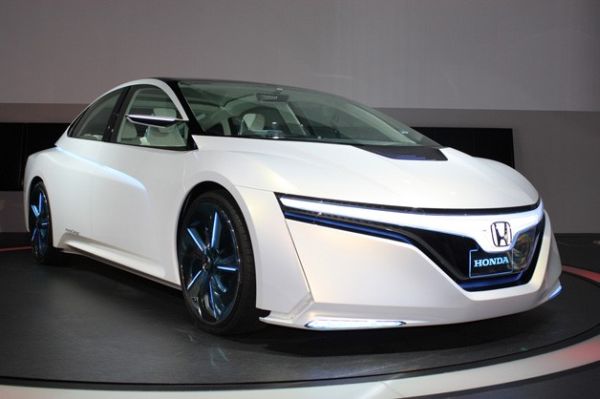 1. Green machine
Honda is bringing a whole range of transportation solutions to the Tokyo Motor Show, from this plug in hybrid sedan concept to folding scooters and pod cars. Dubbed AC X for Advanced Cruiser eXperience, this streamlined sedan draws heavily from the FCX Clarity fuel cell sedan's aesthetics, applying its design language to a plug in hybrid electric show car.
2. Green factor
The four seat sedan via its Automatic Drive Mode Support explores autonomous control which folds control yoke wheel to a dashboard, tilts back the front seat as well as offers an ottoman especially for driver's legs while safely delivering their commuters to their destination. It is fuel efficient and will offer maximum mileage. It can be easily manoeuvred in crowded city, over long distances as well as less dense country. It comes with adjustable Aerodynamics bumper. For better aerodynamics, the rear and front bumpers can be moved up and done while driving.
3. The power train
Powered by a 1.6 liter four cylinder and a pair of electric motors, the four seat AC X features a super slippery .21 cD thanks to active aero bits (front bumper, side skirts and rear diffuser) and transparent full wheel covers that remain stationary when the car is in motion.
Despite such future think technologies, the AC X's powertrain seems remarkably near term, with a realistic EV only cruising range of 50 kilometers and a maximum electric only top speed of 100 kph (62 mph). It generates 127 horsepower which is remarkable. The car moves at 260 mpg speed in fuel economy mode. When its tank is fully loaded with gas and is fully charged, it offers 100 mpg mileage. Like every other hybrid, the AC X too boasts of an electric motor and combustion engine.
4. The highs
Dual Solid Motion is the theme of this sedan. The upper section of the body of the car has an appearance of boundless energy while the lower section has the appearance of dependable stability. One of the main highlights of the car is that it comes with two driving modes, Engine Drive Mode and Automatic Drive Mode. The wheels feature non rotating, stationary covers to help cheating the wind, which is akin to the wheel spats which had been pioneered in Formula 1 some years ago. It features a smart key, Honda smart connect.
Small as a smartphone, this handled device can be docked as well as it helps to monitor the vehicle's charge level. It will help customers to find out as to when the car needs to be recharged. The green auto will offer two displays which will definitely enthrall customers. One display is on the windscreen for the driver while the other is a panoramic 3D view. The 3D display is available on the dashboard for both drivers and passengers to enjoy a delightful sight of the surroundings that they are passing through. The 3D display will add to the auto's market frenzy.
5. The lows
This sedan offers great stuff but one of its disadvantages is that it has a top speed of 62 miles/hour. The exterior of the car could have been more modern and futuristic at par with its highly technical as well as advanced interiors.
6. Cost and availability
Details of its availability and price have not yet been disclosed with the car scheduled to make its debut by the end of the month at Tokyo Motor Show.