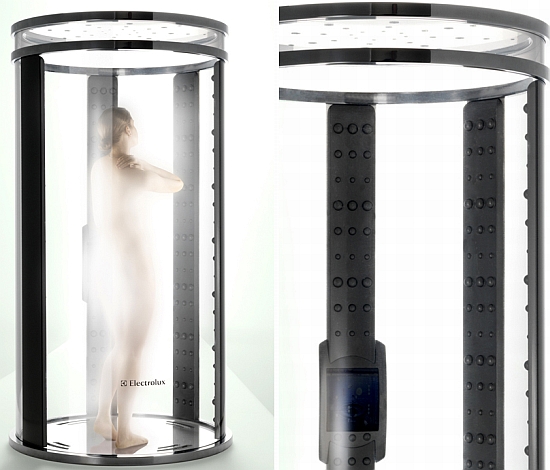 One of the burning problems that have sprung out of over-population is water shortage. And of course, energy crisis follows close behind. The world has awaken to the need of conserving these two vital resources. As a result, new and innovative gadgets are hitting the market, with an endeavor to lighten the burden on the environment's resources.
Brazilian design student Joao Diego Schimansky's Fog Shower is one such product. It happens to be one of eight finalists in the 2007 Electrolux Design Lab competition, which, if announced to be the winner in Paris, would bring the creator 5,000€ ($7,435). The theme of the competition was to create something eco-friendly and sustainable for 2020.
Joao's Fog Shower consumes just two liters of water during a five-minute shower. It's all to do with the mist of microscopic water droplets, rather than a traditional shower, which uses around 20 liters for the same amount of scrub-up time, which is less than a twelfth of the water used by today's most efficient showerheads. It bathes you in a directed fog of heated water vapor
This, all at once, saves water and the energy required to heat it.
The Fog Shower, at present, is still a concept. However, if it happens to take the shape of reality, it might effectively change the face of water and energy crises in the present day world.
Via: Trendir