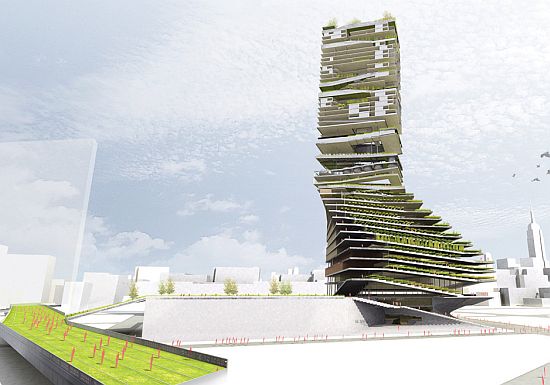 Eco Factor: Mixed-use skyscraper with a vertical farm.
"Urban Farm, Urban Epicenter" proposal by Jung Min Nam is an urban and social vision from architectural realm in response to the increasing concern for urban farming in a sustainable way. While farmlands are being replaced by commercial and residential skyscrapers, the Urban Farm, Urban Epicenter proposes the creation of a new civic and cultural infrastructure tied with food production and water recycling systems.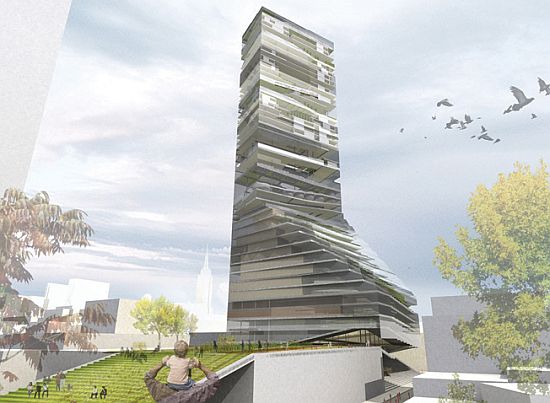 The high rise has been conceived to be developed in the Meatpacking District in NYC with a large cultural plaza and pedestrian networks of the farmer's market, with farming, water-recycling, housing and commercial areas above. The floors of the farming and water recycling areas have gentle slopes to create continuous pedestrian access from the ground.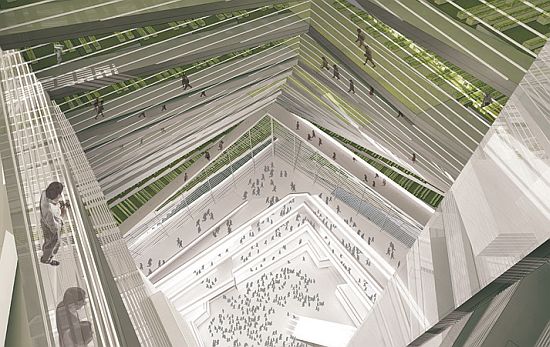 In normal farming techniques, food travels thousands of miles in order to reach urban consumers and a lot of energy is wasted in preserving the produce. Urban Farm, Urban Epicenter makes use of hydroponic growing techniques to grow crops more efficiently and make them available to consumers without transporting it over long distances.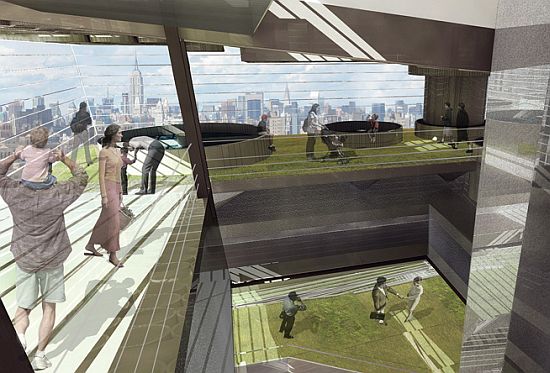 To even better the green credentials of the architecture, the architect is proposing the use of sustainable design elements that include space for natural ventilation and illumination and the construction of semi-public farming areas. The gray water produced by the offices and houses on the top floors will also be recycled and used in the hydroponic farms below.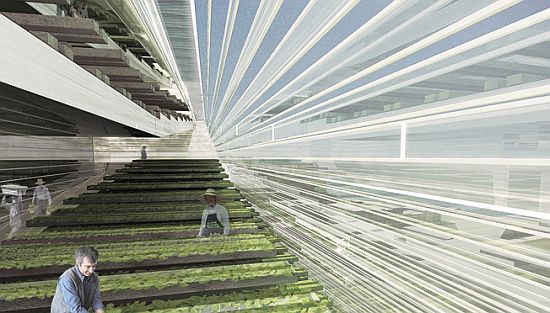 The proposal not only addresses food production issues but also works as a symbol of social change. It has been designed to reshape urban lifestyle as being manifestation on how the urban life can be in the future from a day-to-day impact on our cities.
Via: Vertical Farm