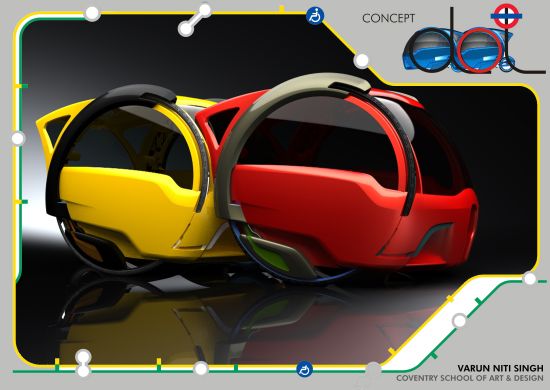 EcoFactor: Futuristic solar-powered, computer-controlled public transport system.
With the increase in traffic, going from one place to another is not the same as it used to be a couple of decades ago. We somehow have become accustomed to this problem and don't really think about it when we sit in the cozy comfort of our cars, waiting for hours for the traffic to clear out. With the continuous explosion of global population, this problem is not set to go anywhere in the near future. However, some designers have taken up the task and have created some brilliant designs that can solve some of the traffic woes – at least in megacities like London.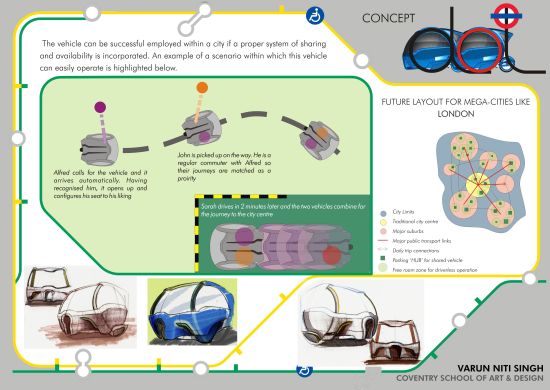 Varun Singh is one such designer who has created a completely futuristic urban transport system, called the D.O.T or Direct On-Demand Transport System. As the megacities keep on increasing their size and capacity, the residents will make daily trips to and from a multitude of destinations, putting a question mark on the efficiency of large scale public transport systems. The solution Varun found is a combination of shared transport and your own personal car. Bridging the gap between public and private transport, the D.O.T is aimed for London by 2030.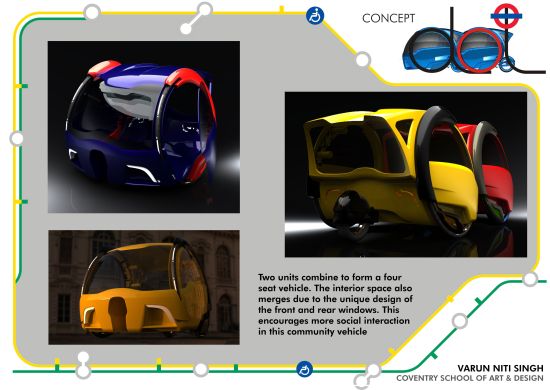 This two-seater vehicle runs on a centrally controlled system that is capable of automated driving. People would be able to pick up these cars from the nearest parking hub and drive away. On reaching their destination, they would leave the car on the nearest parking hub, where the car would be ready for another trip. Internet-based journey mapping would also make sure that you don't always drive alone. Moreover, if you feel like taking your family out for a dinner, then you can also combine two vehicles together to form a larger vehicle with combined interior space. The best feature of the whole concept is its EcoFriendliness, as these vehicles are powered by lithium-ion batteries, which are juiced up by solar energy provided by the solar panels resting on top of the roof of these vehicles.
The Dark Side:
Visiting the local parking hub to find a vehicle for yourself and then leaving it again at another parking hub seems to be the problem area in this concept. Everyone is so very busy in their lives that they don't have time for all this. People own cars because they don't want to visit the bus stop or the railway station every morning before going to office. This transport system is ecofriendly, but it still does not answer the simple question of why people buy cars.
Via: Create The Future Contest