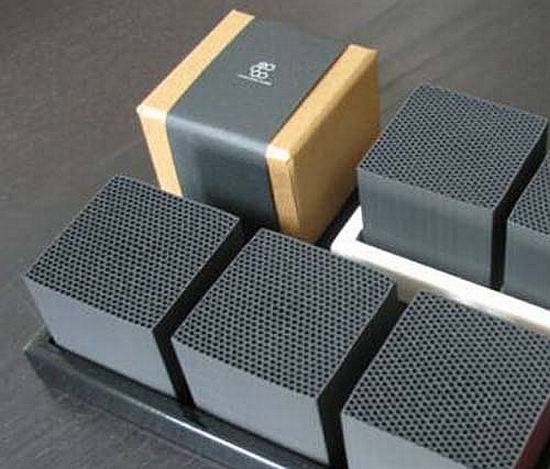 Eco Factor: Bamboo charcoal-based air purifier.
If you're looking for an ecofriendly way to keep your car or your closet free from bad odors, then the Chikuno Cube might just be the perfect product for you. The cube-shaped air purifier is made from an ultra fine powder of bamboo, charcoal and clay. Charcoal has a high capacity for absorbing odors, and the Chikuno Cube utilizes the material to perfection.
Packed in a micro-honeycomb structure, a 2-inch cube has the same surface area as four football pitches, which enables the purifier to work for about a year without any refill. Whenever you feel that the cube isn't working well, just expose it to direct sunlight for six hours and it will work perfectly for the next month. The Chikuno Cube is priced at $28.50 at the Delight Store.
The Dark Side:
Most air fresheners work by replacing bad odors with fresh odors of perfumes that are packed into them. Being natural, the Chikuno Cube will just eliminate bad odors.