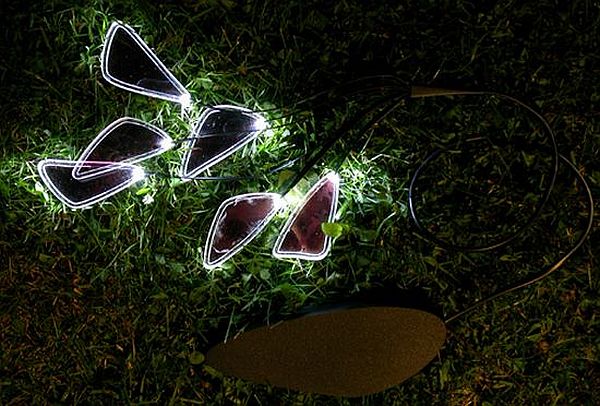 Are you an environmentally friendly person constantly seeking new ways of contributing to make the world a greener place? What better place than to start from your own garden! Eco friendly garden lights are the right way to go. The batteries are charged using solar power during the day and can be used to light up your garden during nights. Investing in solar energy is a great way to check electricity usage. Just install solar panels and you are ready to go.
Here are some of the best eco friendly garden lights you can choose from:
1. Solar-powered petal lights
The petal lights by Emma Caselton consist of six glowing petals suspended with the help of a cable. Shaped like falling butterfly wings, these garden lamps are made up of transparent solar cells each of which is embedded with an LED. They are a good choice for your lawn, garden or even pool side.
2. Solar-powered renaissance lanterns
The best way to embellish your garden side walks in a conventional yet enchanting manner. The flickering lights look real as well as they keep your electricity bills in check. A single charge gives a power usage of up to 10 hours.
3. Wild grass solar lights
Shaped like grass these eco friendly solar lights add a unique glow to your garden. They come in a set of 3 and can easily be maneuvered to bend them as you wish. Stick them in the soil & see them light up your garden.
4. OCO garden lamp
A simple but innovative lighting system which serves a dual function. The LED can be used to light both the ground below and the sky above. A position light illuminates the ground and residual light is used to brighten up the night sky in either green or amber color depending on the color of the plastic cover. You can pick from two versions that are available. One which can be placed on a firm ground and the other with 3 fastening points.
5. Solar globes
If you would like to give a celestial look to your garden then look no further than Solar globes. Spherical in shape, these lights can be used to add color to your pond or fountain. They also come with a pole which helps you to fix them on your pathway. You can take your pick from simple sphere shaped balls that come in different colors to ornamental pieces like the solar globe heart sun catcher which has a heart shaped copper ring surrounding a glowing glass orb. From the simple to the decorative, there is something to suit everybody.
6. Firefly
An exquisite combination of solar energy collection and garden art, this lamp uses photovoltaic solar cells. It collects sunlight, converts it to energy and stores it for lighting the LED at sunset. But the most unique feature of this lamp is that it automatically turns on during dusk. It comes with a stainless steel stake that can even be shortened to use on the flower bed or flower pot. Apart from these features it is also low maintenance. The amber LED light doesn't need replacement and also the battery has a life of 2 years. An amalgam of economy and aesthetics, this is the right choice for those of who are looking for eco friendly as well as economical options.
7. Solar Lanterns
Do you love twinkly lights or candles to illuminate your garden but are bothered about wiring or lighting those candles? Then solar lanterns are an ideal pick. These lanterns can just be hung from the nearest branch without any fuss. What's more; it comes with dusk censors & is easy to store. It comes in red and white colors; in addition the white ones come with color changing LEDs. It's weather proof besides being economical.