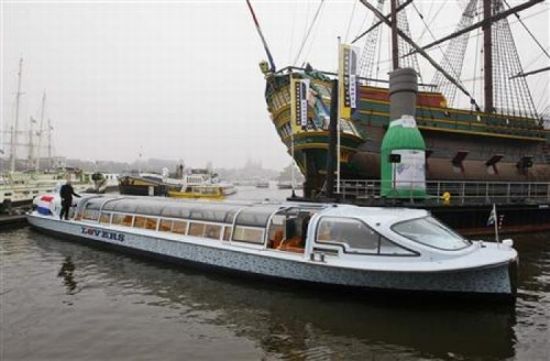 Eco Factor: Zero-emission canal boat powered by hydrogen fuel cells.
The first-of-its-kind hydrogen fuel cell-powered canal boat has made its debut cruise. The zero-emission canal boat emitted only water vapor as it sailed through Amsterdam's centuries-old canals. Dubbed the Nemo H2, the boat can carry about 87 people and runs on a system that mixes hydrogen and oxygen to create electricity and water.
From spring, visitors will have the option of a "CO2 Zero Canal Cruise," in the Nemo H2, by paying an additional 50 (euro) cents. Costing more than conventional canal boats that run on diesel engines, the zero-emission variant needs to visit a hydrogen dispensing station for a refill once a day.
Via: GreenPacks/Yahoo