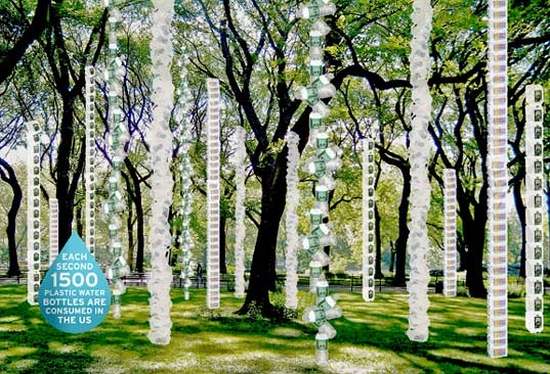 Eco Factor: Recycled plastic bottle installation in NYC by MSLK.
Statistics show that about 1,500 bottles of packaged drinking water are consumed every second around the world and about 80% of all these bottles reach the landfills. This means that every minute the world's population is adding more than 72,000 plastic water bottles to the landfills, which end up polluting the scarce freshwater sources.
New York-based graphic design agency MSLK is creating an installation that inspires people to recycle plastic water bottles used by them into a beautiful piece of art. The installation uses 1,500 water bottles, which is exactly the number of bottles used ever second. The project is titled "Watershed," of course, for obvious reasons. The installation will be exhibited at the Figment Art Festival, which will be open from June 12 to June 14 on Governor's Island in New York City.
Via: Inhabitat