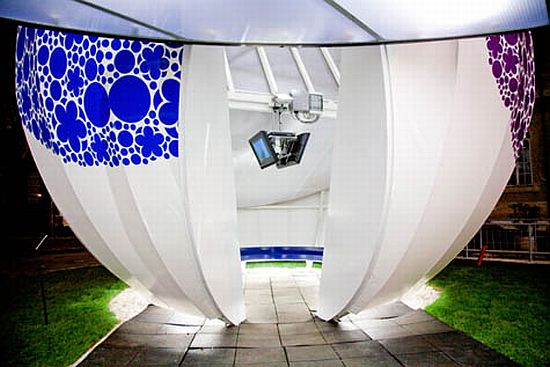 Eco Factor: Solar-powered waiting space creates an environment to cope up restlessness.
Policlinico Umberto 1, Rome's largest public hospital, was recently reported to be unsafe because of unsanitary conditions. To improve conditions at the hospital, Jeffrey Inaba of Inaba Projects has come up with a solar-powered recreational pavilion that would serve as a jovial waiting space. The project has been sponsored by Enel, Italy's largest utilities provider. The pavilion where the "Alice in Wonderland mushroom meets solar-ray chomping Pac-Man" comes with a DVD player and monitors to create a festive environment to cope with restlessness and irritation of having to wait for long durations.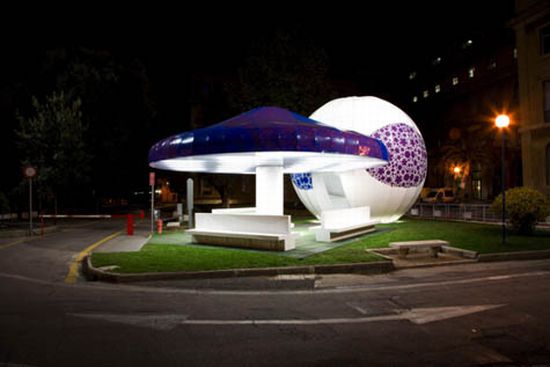 The pavilion is to be used as a centralized space for all kinds of waiting scenarios that include waiting for appointment, waiting for diagnosis reports or waiting for treatment. The presence of a mix of people produces distraction and thwarts the inward feeling one gets when kept waiting for a long time. The colors, lights and the shape of the pavilion bring comfort to the people waiting inside. The pavilion will remain a part of the hospital until February 2009.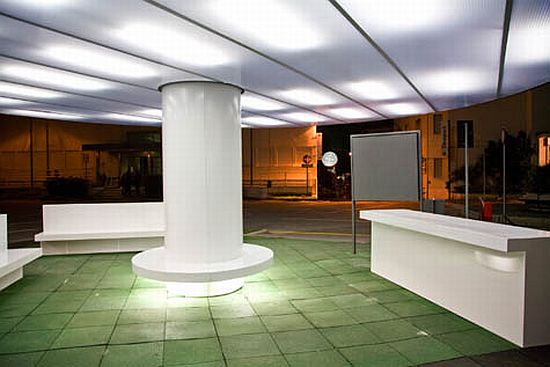 The Dark Side:
The solar-powered pavilion will definitely reduce waiting tensions and cheer up the mood of people who are inside it. However, it definitely won't answer any sanitary issues that the hospital is already criticized for.
Via: WorldChanging/BLDGBLOG