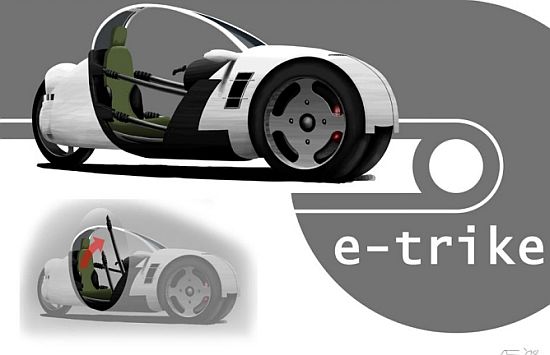 Eco Factor: Zero-emission vehicle powered by electricity.
One possible way to better fuel efficiency of vehicles is to remove one wheel from the a four-wheeled setup and run the vehicle on three wheels. Several auto designers have come up with conceptual rides that run on electricity and have a three-wheeled setup that betters the performance and allow the batteries to run for a longer duration.
Auto designer Onno Fridrich has shared with us his "E-Trike" concept, a three-wheeled vehicle that is aimed to reduce pollution on the streets in the future. As the name of the concept suggests, the vehicle is powered by electricity stored in its onboard batteries. The vehicle includes two closely attached wheels on the front end and a single wheel on the rear end.
The concept has space only for the driver, which is quite practical, as a major percentage of cars on the roads usually don't have a second passenger. The E-Trike features a windscreen that can protect the rider from bad weather conditions.
Thanks: [Onno Fridrich]