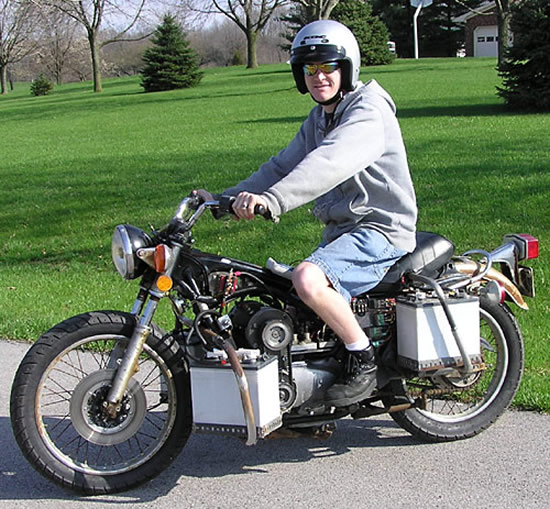 If you've got green cells in place of grey cells then probably you'd find every unused thing lying around to be useful in some or the other form. Same is the case with Russ Gries. Since gas motorcycle was not his types, this fellow managed to put the deceased 1976 Honda CB550 back in action on the road with a battery powered forklift. Donning on his work pants, he got down to work on his new project Voltzilla. And after about 120 hours, he has managed to put his machine out for its first test run successfully. He got it up to 35 mph, and with a planned drive pulley swap, he's aiming for a 60-65 mph top speed. With its heavy forklift components and honking big batteries, the bike tips the scales at a portly 740 lbs, minus the rider. However he isn't satisfied with this and is aiming for Voltzilla is to get himself back and forth to work, 12 miles each way. (Roll over for a video too….)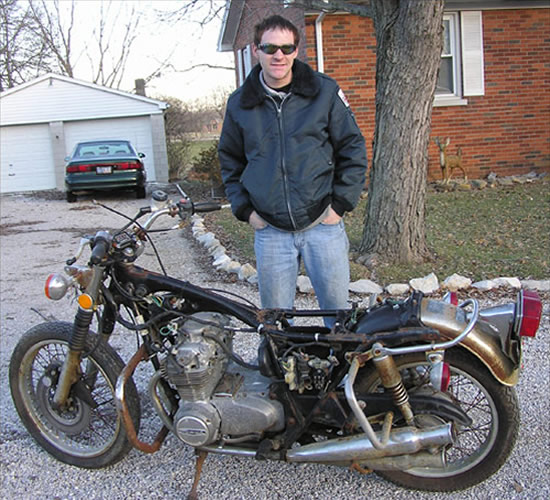 He also hopes to integrate it with a rebuild front brake, speedometer, DC/DC converter to run the bike's 12v system (lights, horn, etc.) from the 24v pack. Also he wants a neat paintjob done to make it look cool.
All this has been easy on his pockets too as his net cost so far is $15.61. That represents about $350 spent on parts, minus an almost equal refund from the scrap dealer for recycling the forklift chassis.