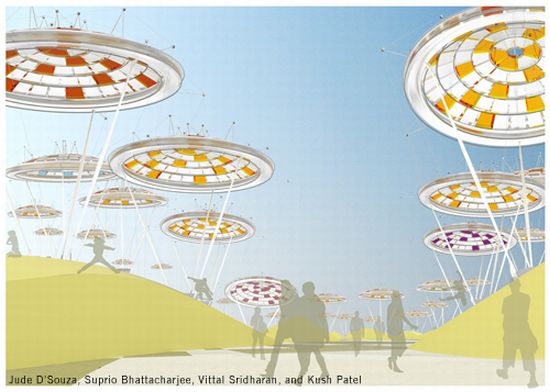 Eco Factor: Giant gas-filled balloon works as a solar concentrator device to produce green energy.
The Desert Blooms is the design submitted by Jude D'Souza, Suprio Bhattacharjee, Vittal Sridharan, and Kush Patel for the 2010 Land Art Generator Initiative Design Competition. The project that stimulates and draws people's engagement as involved participants in the work, and not as passive spectators features as many as 51 giant Flowers that follow the sun's path during the day to trap solar energy and settles down over the dunes at night creating a lively cultural and social events venue.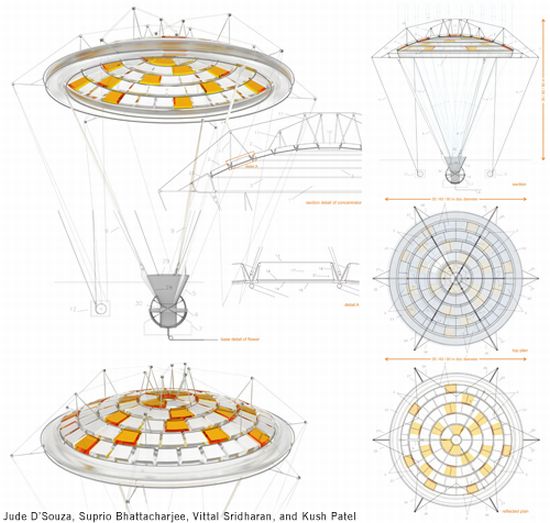 Located on a site between Yas Island and Saadiyat Island, each Flower is a gas-filled balloon that works as a solar concentrator device, which is lightweight, non-disruptive, modular, low-cost and requires minimal ground space. This enticing installation can generate enough energy to power at least 15000 homes across the country. The balloon tethered down and braced against wind pressure by cables and a central trio of pylons incorporates gas filled polymer cells mounted onto a lightweight metallic frame.
The lower surface of the cells is provided with an asymmetric prismatic pattern to focus all incident radiation onto a solar receiver below. Sprouting from a sea of dunes, the Desert Blooms behaves like a garden for the city, a playground for a child and a renewable energy source for the country.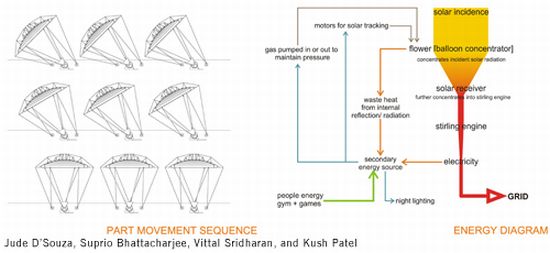 Via: LandArtGeneratorInitiative