Eco friendly elevators are the new rage as they are energy efficient and cost efficient to operate. Green elevators offer energy efficient operation while providing the same level of comfort and ride quality as that of traditional elevators. They can be easily installed and need minimum equipment to set up. Modern eco friendly elevators have more lifespan than the traditional elevators. All the traditional elevators like hydraulic and traction elevators are now coming with environmental friendly features. There are newer varieties like Vacuum elevators, which can use energy more efficiently. Instead of using cables and pistons like the traditional elevators, some of the latest environmentally friendly elevators are even powered by air and can recycle much of the energy, which generally goes waste.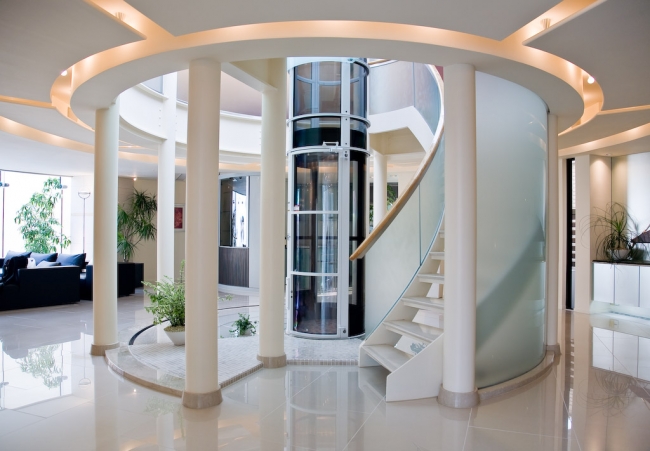 Saving Energy
An eco friendly elevator helps reduce energy consumption through efficient operation. The design of eco friendly elevator ensures that they consume up to 50 percent less energy than the traditional elevators. Most of eco friendly elevators work on a gearless system and do not need a machine room. They can save energy by utilizing it in a very efficient manner. Most of the energy is generated in the drives of the elevator and is recycled for reuse. Halogen lights are used in place of incandescent lights in many models of eco friendly elevators, which further reduce energy consumption. Some eco friendly home elevators come with sensors installed in them, which automatically switch off the lights when the elevator is not working and thus saving more electricity.
Low Maintenance
The maintenance costs for an eco friendly elevator is also lesser when compared with traditional elevators. Latest eco friendly elevators do not use any pistons or cables and do not need any routine servicing. There is also no need to use lubricators like hydraulic oils to ensure their smooth functioning. The leakage of the hydraulic oils can harm the environment. Vegetable based fluids and highly refined petroleum based fluids, which are more environmental friendly are generally used as lubricants in the modern eco friendly elevators. They have minimal wear and tear as they do not have any pistons and cables. They need minimal servicing like the main seal, which needs to be serviced periodically.
Easy Installation
Installing an eco friendly elevator is easier when compared with the traditional elevators. They generally do not need a pit, shaft or a machine room for installation as they moslty use a gearless drive system.
Portability
Eco friendly elevators come with portable designs. They do not need any pit for installation; they can be easily uninstalled and moved to another location within the same home or outside.
Style and Safety
Besides being inexpensive to operate and environmental friendly, the latest eco friendly elevators do not compromise on style or safety. They offer a very quiet and soft operation with smooth start and stop making them ideal for home use. They come with good safety features available in traditional elevators like , pit switch, emergency light and alarm, upper and lower terminal limits, over speed governor, slack rope safety device, electromechanical interlocks for doors, etc. They also have good loading capacity to facilitate the transfer of even heavy household goods. Eco friendly elevators come with latest designs and offer soft and calm operation with features like smooth start and stop. They come with a multitude of choices for elevator car interiors such as melamine, wood veneer, raised panel hardwood or inset wood panels.
The only hindrance for eco friendly home elevators used to be their expensive price tags. But, with prices now coming down they make an ideal choice for consumers to save on operating costs and show their environmental consciousness. Eco friendly home elevators are now available with all the major elevator dealers. Finding a dealer who can offer proper guidance in selecting an appropriate model and good pre and post installation service is crucial.