California's fruit processing industry looks set to be powered by the sun. Stapelton Spence Packing Company, a manufacturer which specializes in dried plum, juices, dried fruits and nut products, has installed one of the largest solar-powered water heating systems in the state of California which will save the company approximately 37,584 therms of fossil fuel annually. The number is equal to 1 million kWh or, in other words, a carbon footprint balance of 1.4 million pounds of carbon dioxide.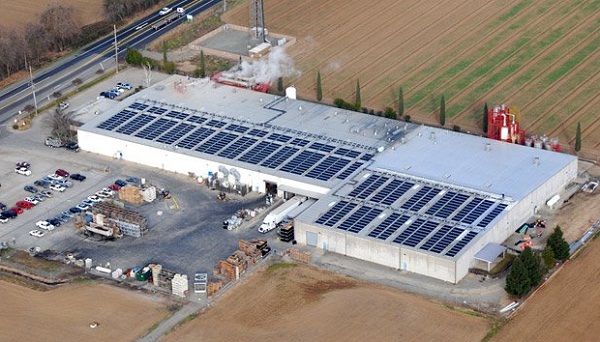 The solar thermal system has 20,000 square feet of solar panels installed on the roof of the facility in the Sacremento valley town of Gridley. The system as described by the installers – the FAFCO and BCM Construction – is known as indirect circular technology. Traditionally, water is circulated through the panels but in the case of this new technology, a heat transfer liquid flows through the panels and moves to a heat exchanger where the water to be used is heated.
Stapelton Spence uses 30 million gallons of water annually where one third of that goes to the boilers. The system installed at the facility preheats water to 30 degrees Fahrenheit, warmer that its standing temperature. It's then passed to a boiler which creates the steam used by the facility. By preheating the water, the use of natural gas is reduced by upto 37,584 therms.
The plant uses almost 650,000 therms of fossil fuel every year, most of it to rehydrate dried fruits and sterilize juices and purees before packing and shipping products. Like any other renewable energy installation, the gigantic solar system will pay back its cost in a very short time, just three and a half years, according to the company. Not to mention, rebates of $476,000 which Stapelton will be receiving from the California Solar Initiative.
Via: Solarthermalmagazine