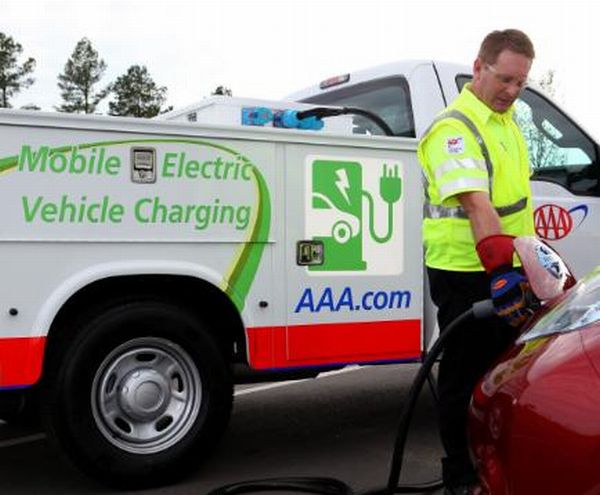 The Plug-In 2011 electric vehicle conference saw Level 2 and Level 3 mobile chargers which will greatly help reduce range anxiety in people moving on their electric-driven vehicles. AAA has announced the opening of their special services for stranded EV users. After all, society has to take care of those who are scrupulous enough not to affect the environment each time they get on the road. These EV riders will be served with roadside assistance trucks on the highway. The trucks will be equipped with big batteries and slow and fast chargers which are lithium-ion and liquid fueled.
If a jam hassles them in any of the six metropolitan areas chosen initially by AAA for launching its service, drivers can now get a limited 3 to 15 miles of driving range to get out of it. This will help them reach the nearest charging station. EV users of Seattle, the San Francisco Bay Area, Los Angeles, Knoxville, Tenn., the Tampa Bay Area and Portland, Oregon, are the fortunate ones who will be getting the service first, as announced by AAA.
AAA director of auto repair, buying services, and consumer information, John Nielsen, anticipates expanding the program to additional areas very soon. However, this expansion will depend on the response generated from the pilot project in the six centers. But for the present, Nielsen saw tremendous support to this service from AAA clubs across the country. As beneficial as it is, however, the program isn't something that can be called a first in the world. Many European countries and some states in the US already have such services available for the people.
Via: CNet