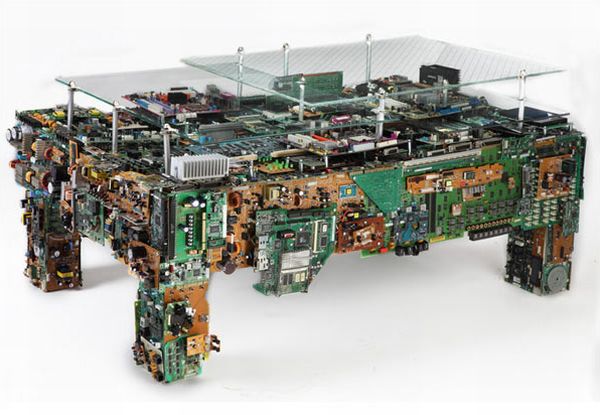 The modern world is full of computer applications. All of us proudly own a computer or two. You need computers for doing research, calculation, tabulation, keeping data, automating appliances and even for playing games.
Each year computers are getting more robust and more efficient. Every two or three years, you proudly own a new age computer. However, no one thinks about the use of old computers. Old computer used to find a place in the storage, where it stayed for years before being sold as scraps, but not anymore. People have come up with some wonderful creative things that can be done to old computers.
Here are five wonderful creative things made of old computers:
1. Nike Shoe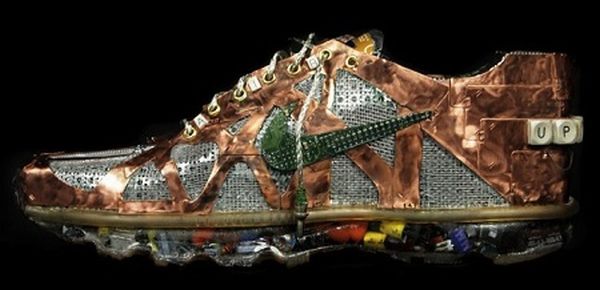 Gabriel Dishaw came up with this exclusive idea. The shoe is made from old computer hardware. It has remains of motherboard, chipset, connectors, and USB ports. It has even used an old typewriter case and oxygen mask of a 747 airplane. If you are talking about the comfort, then the Nike remains surely ensured that. It is kind of a geeky shoe. You may not have the Arnold's terminator look but wearing it, you will surely feel like one. It may be an exaggeration but it did use 'Machines' to give it a cool look.
2. Data Sandals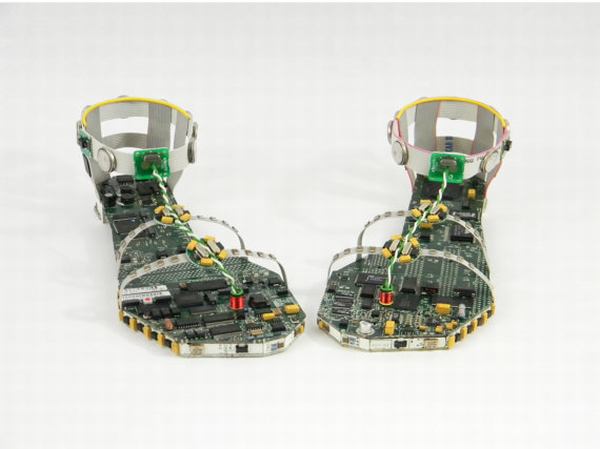 The name sounds like a data storage unit, but it is the name of an exclusive footwear design available at Etsy. It is made of old motherboards and data ribbons giving it a killer look. It may not be as comfortable as your regular footwear but the cool circuitry look will make you stand different from all. Just for information, this footwear does not boot up and give boosting speed to your walking. It is bit overpriced at $ 350 but I am sure you can make one from your own old computer junkyard. After all, if you find a $350 worth use of your old junk, you should always try doing it.
3. Binary Low Table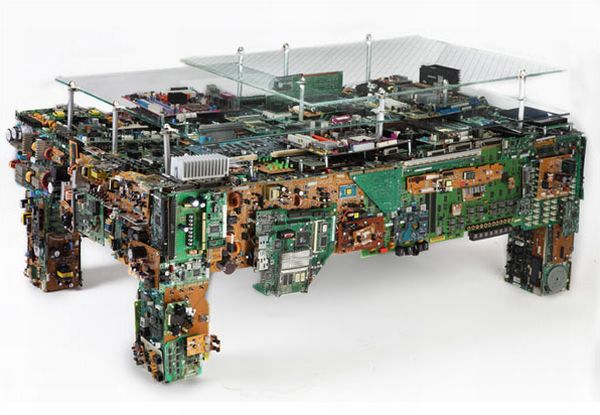 Soon there will be time, when your old computer junkyard will engulf all the space of your living room. You might even end up on sleeping on them, so why not try eating and writing on them. The Binary low table is an innovative creation with lot of chipset, motherboard and cabinet use. The junks are clamped with metal screws. Now you can surely imagine, eating on your computer junk. The design is awesome and gives your living room a "High-Tech" look.
4. The Binary Chair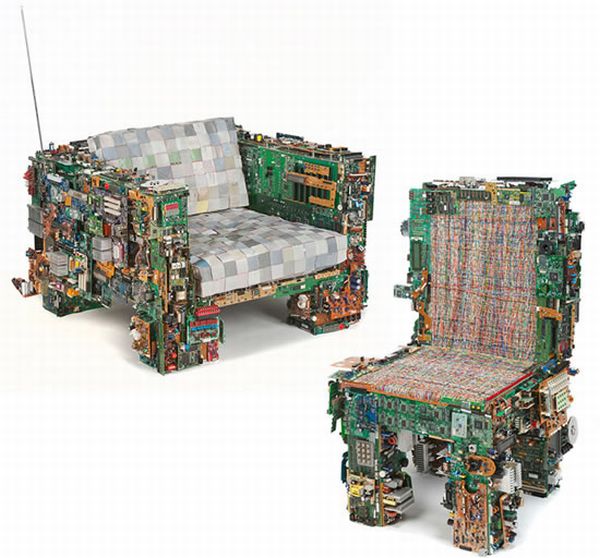 This is indeed a creative design. It uses the strength of the motherboard to give your rear a complete rest. This chair can be an excellent inclusion to your study room where you can study technology. There is a serious concern about its comfort but it has computer data ribbons as its seat cushion. There is another design, where the designer used Ethernet cables as the woven cushion. However, no one says that you have to sit on every chair you own. You can always keep this as a showpiece to display your cool talent. The creations are not always about comfort, it also gives a new look to your otherwise boring room. The designer, Benjamin Rollins Caldwell, claims it to be the fusion of mid century designing and 21st century technology.
5. Christmas Tree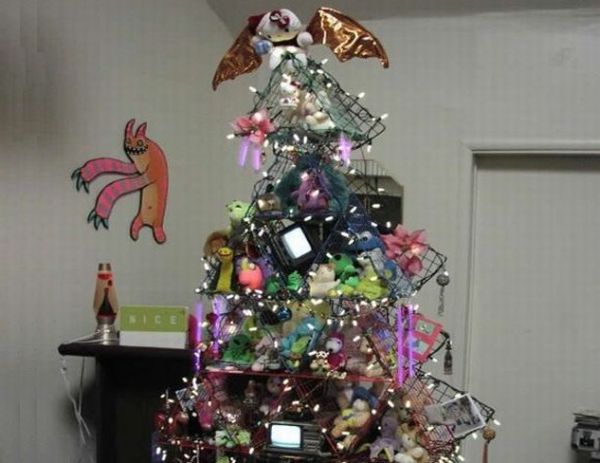 The winter is coming and so is the Christmas. Therefore, you might need an exclusive Christmas tree. The designer Jovino, used the vibrant color coding of electronic components and the green color of motherboard circuit, to make this exclusive Christmas tree. The tree can be as high as the collection of your computer junk. It can even stay fresh for years to have its reuse. The base is made of modular wire shelf units and joined with bailing wire. It has LED and black light cold cathodes as decoration. The design is very colorful and with little LED lights it does have a look of the Christmas tree. The tree even has a kitty angel with plushies stuffed in every place possible.