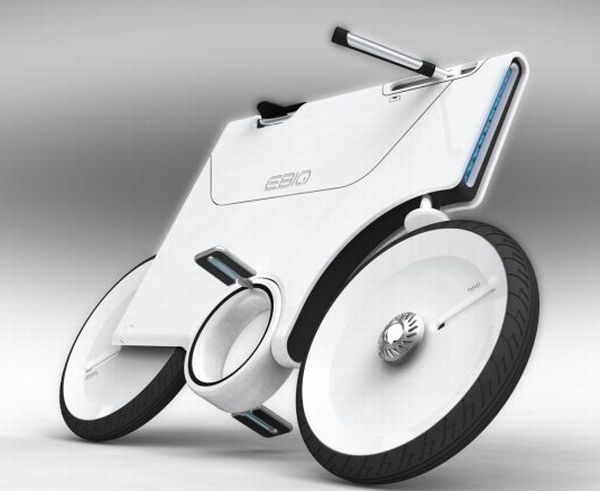 Whenever we think of any major urban context, there is bound to be a flashing 'reverie' of traffic congestions (or jams, if you like), with that excruciatingly long line of vehicles stuck nigh 'bumper to bumper'. In a particular instance in Sao Paulo, Brazil, the historical record was set with more than 293 kilometres (182 mi) of accumulated traffic jam queues, out of 835 km (522 mi) being monitored, on June 10, 2009. The adverse effects of such jams can be manifold like reducing vehicular mileages, emanating carbon emissions, creating parking problems and even lowering work efficiency from economic point of view.
Volkswagen's foldable 'Bik.e' electric bicycle concept: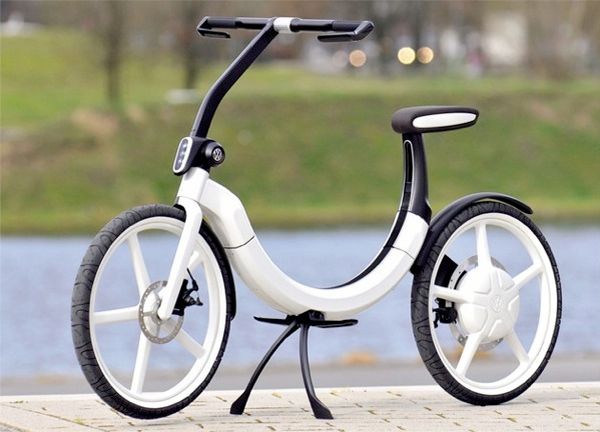 With its jaunty demeanor and sober color scheme, this all electric bike from non other than the exalted Volkswagen is surely to tickle our 'green' senses. The bike can be charged from a motor's DC current or any AC outlet, while it is touted to reach a healthy top speed of 20 kilometers per hour, and also a range of 20 km. But the unique feature is that the Bik.e can be easily folded even in a car's trunk space.
Grasshopper Folding Electric Bike: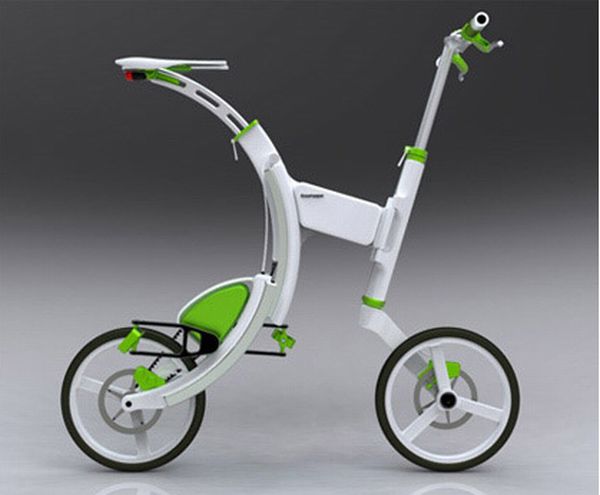 Truly alluding to the real grasshopper, this quirky yet convenient design is all electric and foldable. And wait, there's more; it can also become a stationary exercise bike and even generates and stores the energy you produce while pedaling!
Yike bike Concept: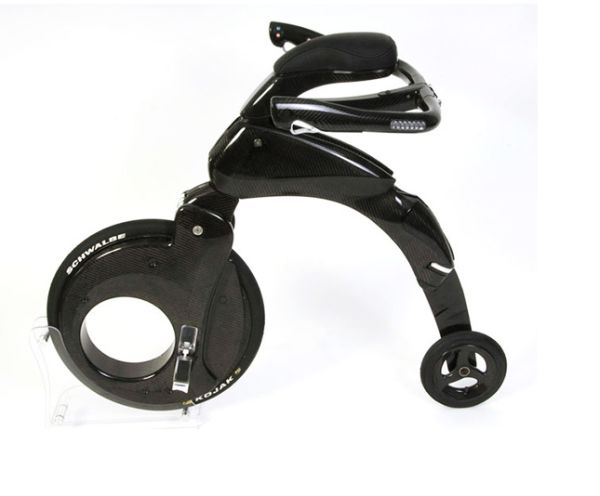 Touted to be the world's lightest electric folding vehicle, this petite contraption can actually be folded inside a backpack. Powered by a 1.2 kW electric motor, this bike can spurt to a top speed of 20 km/h, and has range of around 10 km. Moreover, it weighs less than 10 kg (22 lb) and folds in less than 15 seconds.
Urban electric bike folds to slip in your car's boot: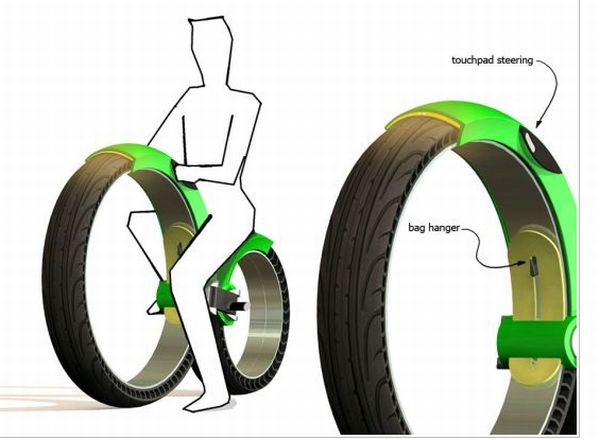 Another smart conception, and this time it's from Israeli designer Yarel Yair. Named as the "Urban bike", this hub-less, electric design is tailor made for cramped urban spaces, and competently features a zero emission mode of ride. It can be also easily folded inside a car trunk.
Designer Thorsten Wicket's Concept: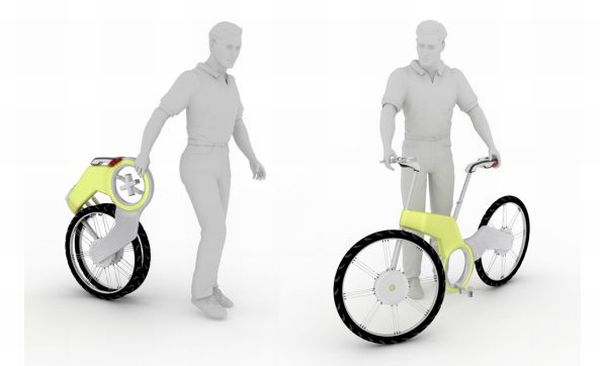 Fluent transportation meets the dexterous mode of transportation, as this concept not only manages to circumvent traffic congestion, but also could epitomize the 'carefree' idea of parking in workspaces. This all electric contraption can be folded along its pedal section, while the whole bike will be driven by the hub motor. Pedaling will only serve to charge the batteries.
Carrier Bike from Korean designer Shin Hyung Sub Shin: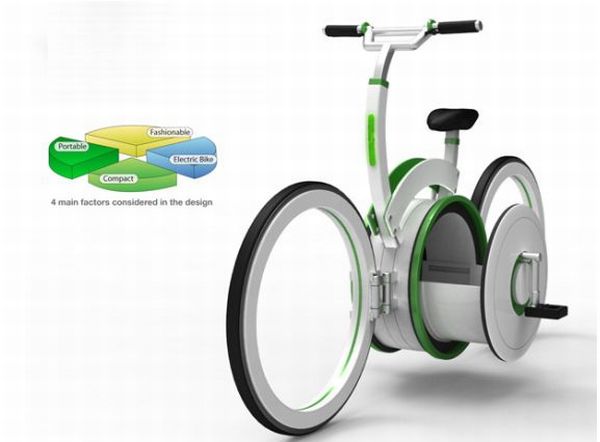 There can be a common misconception that because of the light nature of these bikes, they are not suitable for carrying stuff. And in a bid to prove otherwise, Korean designer Shin Hyung Sub Shin has ingeniously come up with the electric, foldable Carrier Bike. It conspicuously features a 'shelf' area behind the pedals, which maintains its intactness, independent of the bike's form (i.e. whether it is folded or it is in its bicycle form), and also a set of hubless wheels.
Diamove – Urban Folding Bicycle: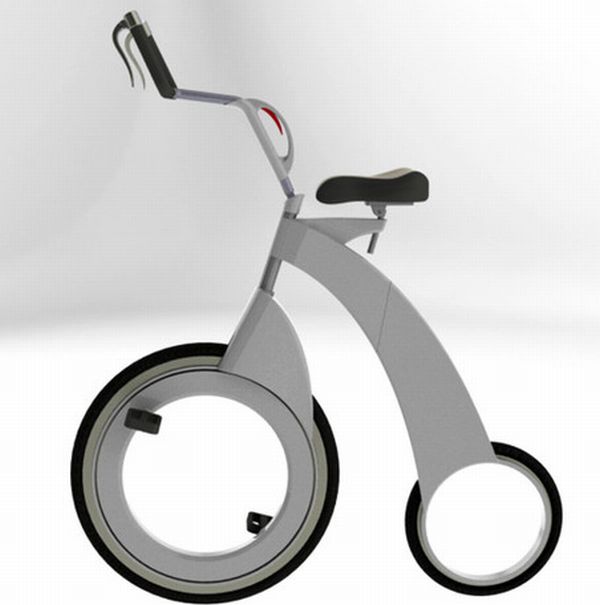 Another innovative folding electric bike, and this design gives importance to the driver's posture. Featuring front wheel drive, the adroit design consideration helps your weight to being focused on the pelvis region rather than your wrists and feet. Moreover the bike can be effortlessly folded along its larger front wheel, giving us an impression of a stout single wheel.
CMYK folding electric bike: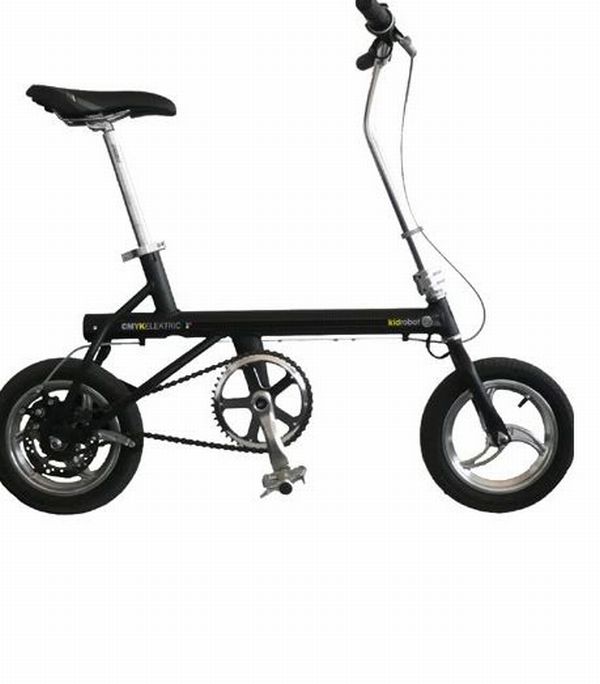 This one may look like a 'kiddie' bike, but it can be powered by a 110V electric outlet, and can spurt for 50 mins after two hours of charging. And yes, it can be folded and can be pulled off in a carry bag (or perhaps even a kid's bag!)
Go cycle folding electric bike: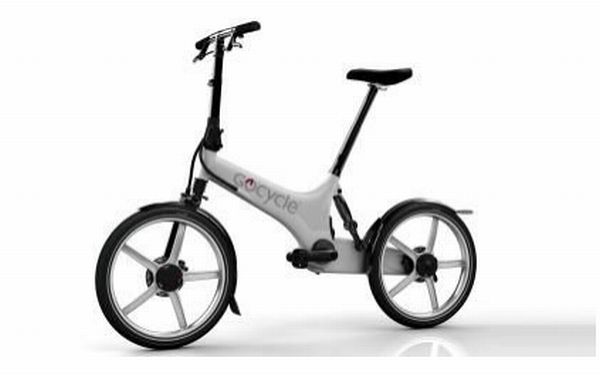 Already touted to the world's most advanced folding electric bike, this fastidiously contrivedconception is put forth by former race-car designer Richard Thorpe. Christened as the GoCycle, the bike can actually sprint to a top speed of 15mph, with a range of 20 miles. Featuring a light weighted yet sturdy motor, which is connected to the front fork assembly rather than the wheel. Other improvements that seriously makes it advanced, include – a completely enclosed chain to prevent oil stained clothing, a super-lightweight injection-moulded magnesium alloy frame, a rear shock absorber to ease riding over potholes, and pit-stop style quick release wheels front and back.
Electric Bike Concept Ver2 EBIQ: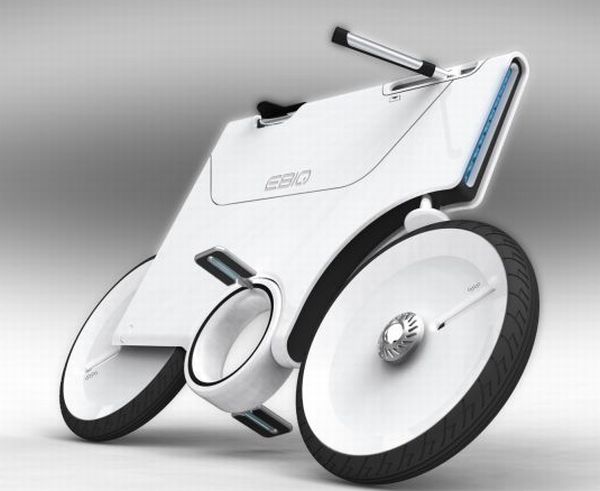 Now the bike Concept Ver2 EBIQ conceived by designer Yuji Fujimurah certainly has a distinct and rather futuristic look. But it's not only about the aesthetics; this contraption can be juiced by lithium-ion batteries, and it rather folds along the narrow cuboid-block frame to transform to a suitcase like shape.
Pulse electric foldable bike by Timothy Daw: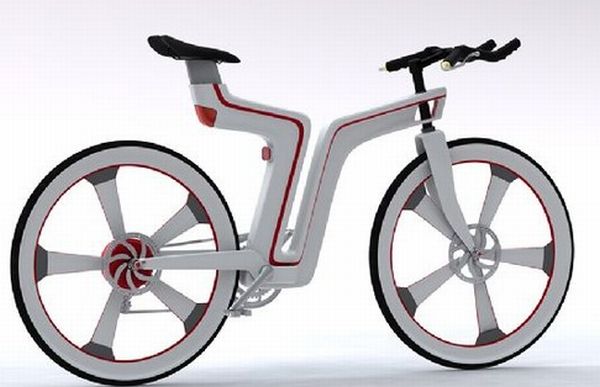 The Pulse electric foldable bike really has the potential to become the master of all trades. Powered by two 26V lithium-ion batteries for 75 miles of assisted biking, the bike also incorporates a plethora of advanced features like traffic indicators, headlight and break light for complete safety in cramped urban streets. Moreover the sturdy 250W motor can help one maneuver the bike in uphill areas and windy conditions.