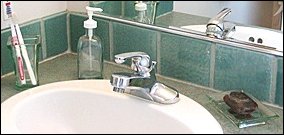 These soap dishes and toothbrush holders will not only add to the beauty of your washroom, but turn it ecofriendly too. They are all made from 100% recycled glass – surely adding a practical elegance to not only your bathroom but your kitchen too.
The attractive recycled bathroom and kitchen wares are heavy weight and extremely durable and would last for years. The size of the Recycled Glass Soap Dish is 4″ x 6″. And the Ethereal (Clear) Toothbrush Holder is made from 100% recycled glass.
The Recycled Glass Bar Soap Dish – Ethereal Clear is priced at $7.95, and the Toothbrush Holder – Ethereal Clear at $7.95.
Via: Abundant Earth