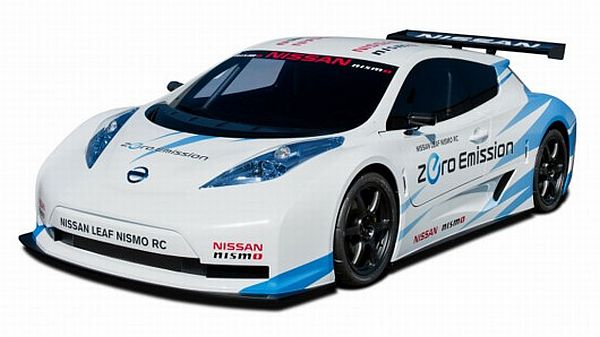 The speed of a roaring motorsports race car is now merged with the elegance and eco-friendliness of the electric car. Nissan and the motorsports division of NISMO together bring much-needed racing credentials to Nissan's electric LEAF car. It is now christened as the new LEAF NISMO RC.
Nissan has stated that the new vehicle is designed as a racing machine. The NISMO RC can reach top speeds of 150 km/h (93 mph) and races up from 0 to 100 km/h (62 mph) in just 6.85 seconds. The overall weight has been brought down and the entire body has been given an aerodynamic makeover. Of course, all this does not really mean that it will going fully onto the racetrack just yet. But, this is a really cool improvement for what started out as an electric car.
Much had to be sacrificed for the transformation. NISMO RC has done away with it's rear doors and seats, the trunk, audio system and navigation. Creature comforts such as carpeting have also been removed. After all, RC stands for Racing Competition. In keeping with the racing ability of the car, NISMO RC has shifted the battery pack, electric motor and inverter to the middle. The car is now rear wheel driven to give that extra boost.
Suspension has been changed to that of a double wishbone suspension for front and back. Compared to the earlier LEAF version, this sports version has a shorter wheelbase and is 40 % lighter, weighing in at 2,068 lbs (938 kg). The other modifications include a driver adjustable brake balance. The wheels have transformed to 18-inch wheels with 6 spokes! The body has been modified to a full carbon fiber based monocoque bodypiece in three piece front and rear removable configuration. The sports effect is increased with an adjustable rear wing and LED lights.
The only thing serving as a remainder to the LEAF in this new version should probably be the LEAF's 48 module lithium-ion battery with an 80 KW AC synchronous motor. This generates out 107 horses and a torque of 207 pounds per feet. The vehicle can dish out its racing goods for a good 20 minutes before charging to 80% in 30 minutes. The purpose of the whole transformation according to Nissan is for the car to serve as a lab on wheels to further develop EV and aerodynamic systems. Watch out for the debut of the LEAF NISMO RC at the 2011 New York International Auto Show on April 20 by Nissan.
Via: Gizmag