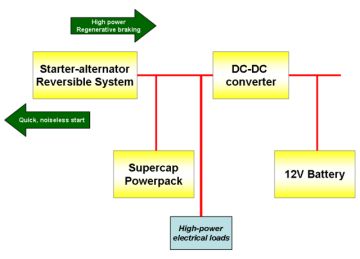 Here is yet another energy efficient innovation. Thanks to Valeo for developing supercapacitor-based energy storage to provide a support to its regenerative braking. It is an extension to Valeo's award-winning StARS stop-start system.
The start-stop system can by itself reduce the consumption of fuel by 4-5 percent. And, when the new StARS + X system are added with regenerative braking, it can deliver a 10-15 percent reduction, Valeo claims.
Amazingly, Valeo has measured reductions of the consumption in Paris' congested traffic by up to 25 percent! The system Valeo is coming up with would deliver 600,000 stop-starts, 1 million regeneration events, and 200,000 boost events.
The different sized powerpacks, the company is using, is supposed to last for the vehicle's lifetime and also deliver reliability even in the harsh thermal environment created as it is close to the engine.
The most needed component for the environment's safe is its being eco-friendly, which it successfully can deliver.