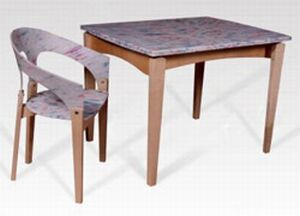 This furniture seems not only funky, but also stylish, comfortable. It is not just durable, but it possesses other features that have a serious contribution towards the environment, what its look deceives.
This Re-Form Furniture is made from reclaimed timber. To add to its amazing contribution towards nature, the designed top sheets are made of recycled plastic! It is discarded polyethylene bottles that are transformed innovatively to make this eco friendly recycled plastic.
Turn your living room green with these furnitures priced at £150 for the chair and £105.00 for the table. You can get them at Re-Form Furniture.
Via: Greenspec