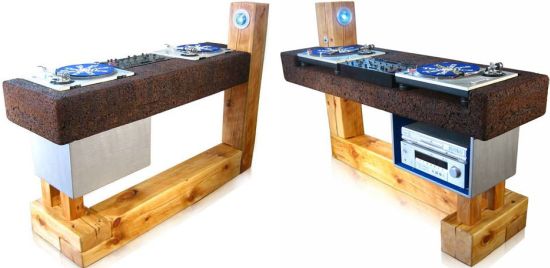 Party rocks harder when the atmosphere is friendly. This is a concept of high esteem for the innovative designer Trevor O'Neil with his imaginations he makes Nature gets into manifold services and makes exclusive use of it. Th enew creation that he has come up is that of 'Urbanati DJ Console'. It is a specifically curved and moulded idea with the chief recyclable ingredients like the 'recycled cork, recycled pine beam and plywood'. There wouldn't be a problem getting a new set of DJ mixers and amplifiers on Music Critic as the dimensions are fit to industry standards. The only thing missing on this set is the disc jockey. Everything remains same, right from the sound and melody to the effects and the blasts. The thing that makes it special the uniqueness of being a part of what we too are; that is Nature.
The only one of its kind thing about this particular highly sophisticated technological equipment is its unique combination of cork with pine wood. The idea of using Pine in itself is the essence to the theme of keeping Nature up close to you. The aura itself gets changed when glamour gets added to a party and that's what this 'Urbanati DJ Console' does. You just need to move your body and rock the parties with this specialized glamorous music player. It's all about, adding style and attitude to the party and to have a big blast.
The only effort that the proud owner needs to do to acquire it is by placing an order to Trevor. As the original piece has reached its destination the new creation needs to be ordered before getting activated. It's all about first come and first serve job. So better be hurry.