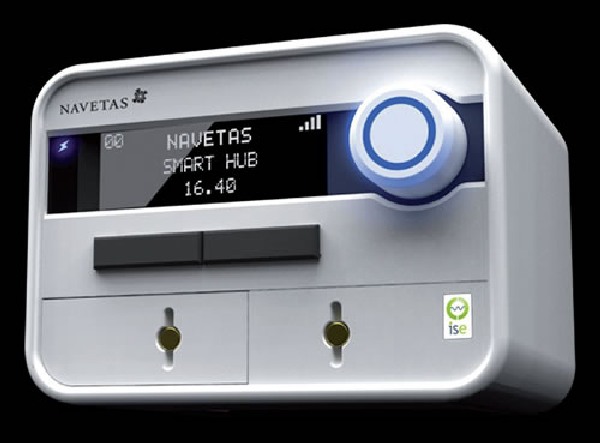 Navetas Energy Management Ltd.is an energy management company that delivers services in the fields of energy measurement, energy procurement, and energy conservation for industrial, commercial, and residential sectors. Navetas' Zeo Smart Hub is a new approach to smart metering for electricity, gas and water metering. It allows customers to monitor their home energy use in real-time, and make informed decisions about cost and environmental impact.

The smart hub can be easily retrofitted by a utility company as it attaches at the point where the service enters the house. It is an intelligent data collection device that identifies which products are plugged in around the house and collects the data whenever they are used. This data is then sent wirelessly and made available to the householder through a touch-screen display located in the house. Above all, it incorporates non-intrusive appliance monitoring technology, developed and patented by Intelligent Sustainable Energy (ISE).
ISE say that the technology developed for the meter can identify where 90 per cent of energy is consumed within the home: whether that's in your oven or washing machine, your tumble dryer, kettle, toaster or even your lighting. They believe it could help homeowners shave up to 20 per cent off their electricity bills.
Just like a standard smart meter, the Nevetas Smart Hub has the facility of paying the bill as the consumer pleases, i.e. either a credit payment, a prepayment or Pay as You Go.
Via: Navetas